Starting an HVAC project? Think about passive fall protection first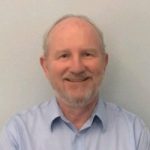 Gary Rae
Market Segment Manager - Confined Space
August 20, 2021
Extra funding is going to improve ventilation in workplaces, hospitals, schools and public spaces to fight the spread of COVID-19.
This is great news. But, there is one big safety issue our team at Levitt-Safety thought of when we heard this news.
Fall hazards. Maintenance people or contractors need roof access to install, modify and service HVAC equipment.
There are a lot of fall hazards on roofs tops including (and not limited to):
access points (fixed ladders or hatch openings)
skylight openings, and
mechanical equipment located near the roof edge.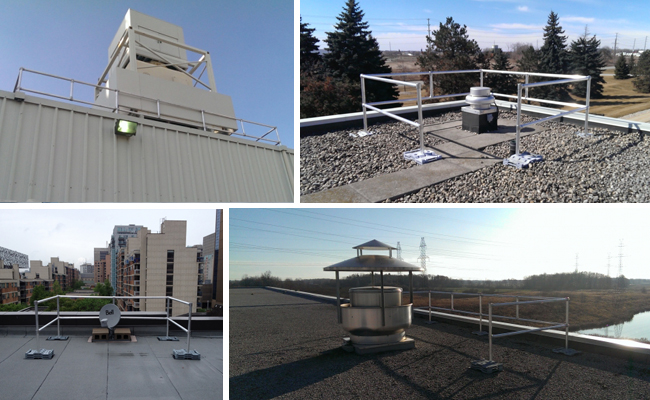 Passive fall protection is the answer.
A passive fall protection system is the preferred method of fall protection.

It's stationary so it won't move, adapt or change when in or out of use.

Passive fall protection doesn't require the use of personal protective equipment (PPE) or active participation from the worker.

Typical passive solutions include guardrails or netting systems.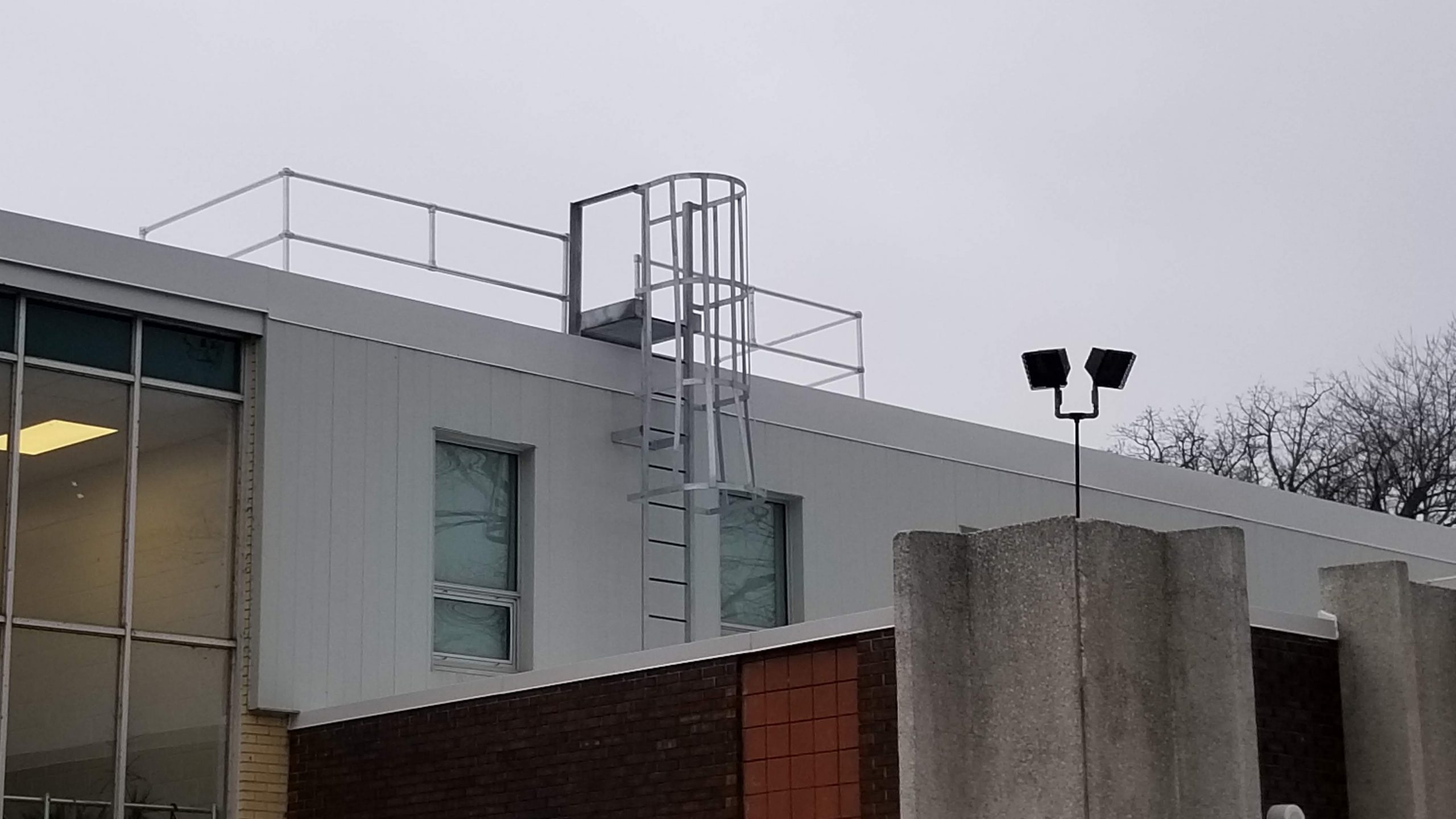 Why are guardrails the best option?
Every inspector, trainer and consultant will point you to the Hierarchy of Fall Protection when talking about a fall protection program.
The hierarchy looks like this:
Hazard Elimination: This is the preferred option. Eliminate the exposure to a fall hazard.
Passive Fall Protection: Physical barriers, like guardrails around unprotected edges and openings or netting. No specialized equipment or training needed.
Fall Restraint Systems: Anchors and PPE to restrict the worker's range of movement so they cannot fall. Specialized equipment and training required.
Fall Arrest Systems: Anchors and PPE to arrest a fall within acceptable force and clearance margins. Specialized equipment, training and rescue planning required.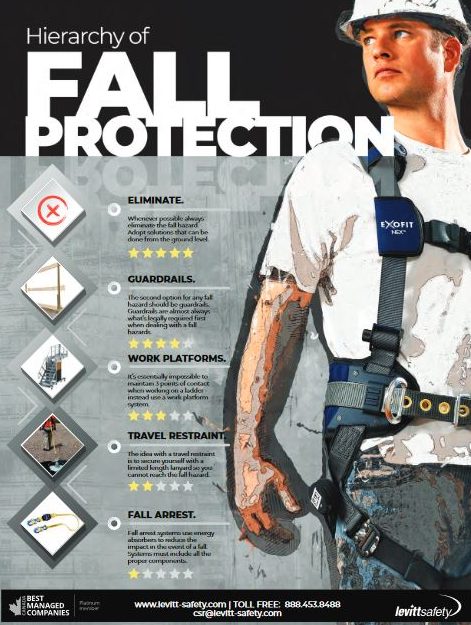 What to look for in a guardrail system:
Non-penetrating guardrail systems are the most practical and easiest to install. Most businesses prefer them for three reasons:
No welding, drilling or bolting into the roof structure.
Eliminates the risk of water leaks or the need to reseal.
Meets building codes and standards.
Multiple workers can be protected without specialized equipment and training.
Coverage for many of these applications is available in pre-engineered, packaged kits.
The systems are modular and can easily be configured to match any application.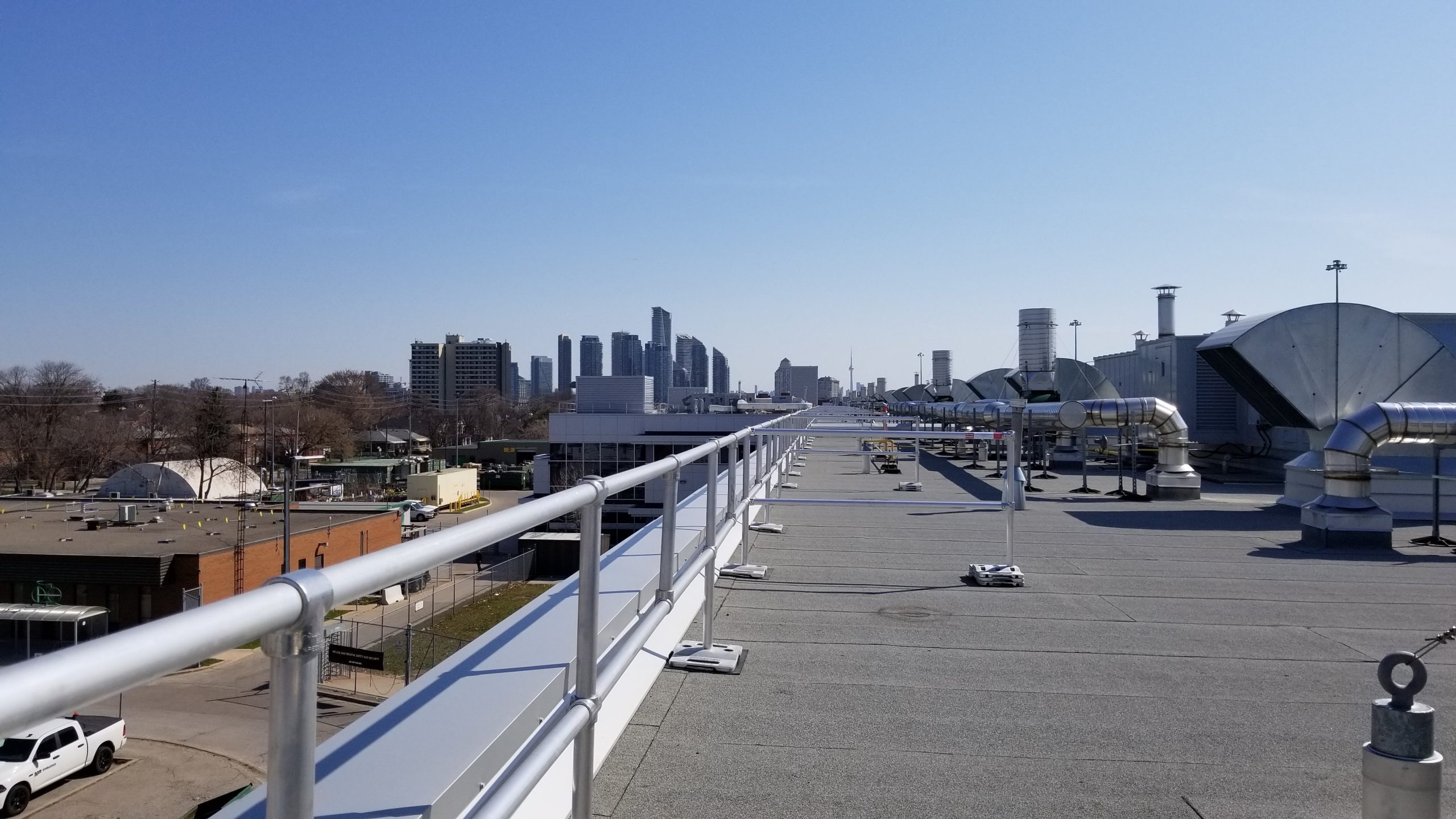 Why we recommend the RoofGuard line of products
We recommend RoofGuard because it's easy to use, reliable and effective.
It starts with the base plates.
These plates are portable, stackable and easy to carry.
Each one weighs 40 lbs. and is designed to nest. This gives them enough ballast to comply with fall protection legislation.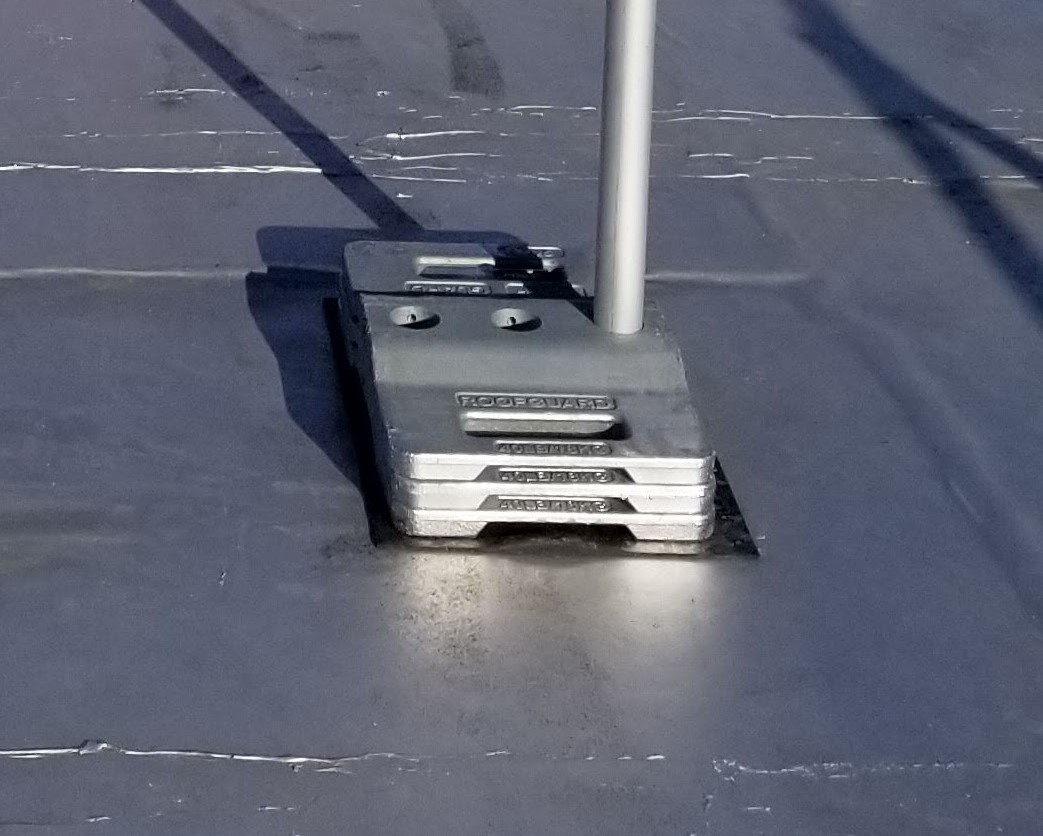 ---
RoofGuard options and packages:
We carry the whole line of RoofGuard products, you can learn more about each product by visiting our roof guardrails page.
RoofGuard Classic:
Comes in 6-foot or 9-foot spans
Available with 9, 18 or 27 feet of leading edge protection
Can be set up straight, at 90 degrees or anything in between
Custom colours available to match existing structure
Can be custom fit around obstructions
Fittings can accommodate sloped roof sections up to 5% grade
Guardrail Accessories:
You can also add the follow accessories to your roof guardrail system:
hatch guards allow contractors to safely enter and exit a rooftop
rooftop walkway system
roof access ladders
crossover walkways to eliminate trip hazards from pipes
hatch bars to safely enter and exit a rooftop
Good ventilation in place is going to be key in public spaces like schools, universities and shopping malls from now on.
Good passive fall protection system in place is key to ensuring maintenance personnel are safe to do their jobs.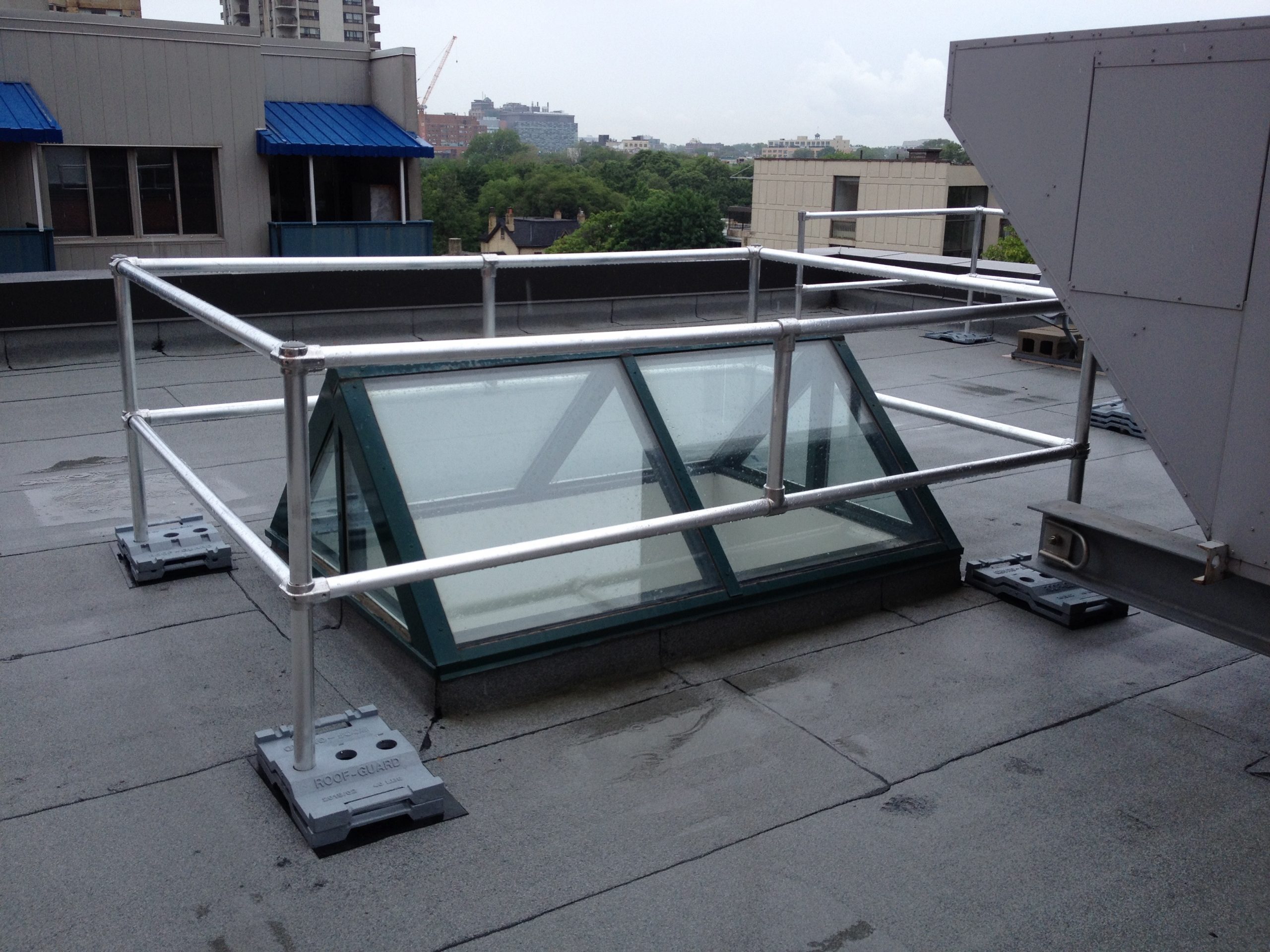 Talk to an expert
Fall protection guardrails can be installed on most rooftops, regardless of shape or size.
Our team of fall protection specialists is here to help answer any questions you have.
We can also provide quotes for guardrail kits or custom installations.
Fill out the form below to get started!