Vibration Monitoring Equipment
Talk to a safety specialist
Why measuring workplace vibration is important:
There are innumerable benefits to measuring vibration in the workplace. Vibration can influence the reliability and longevity of machinery and structures. It can cause damage, malfunctions and structural safety issues.
There is also a concern for people working in environments or with machinery that vibrates. Repetitive vibration can damage nerves, blood vessels and lead to long-term health concerns.
Measuring vibration provides safety management teams with data for the severity and regularity of vibration. Using this data, managers can take corrective action and implement the appropriate safety controls like eliminating the hazard or providing personal protective equipment.

SV 103 Hand-Arm Vibration Dosimeter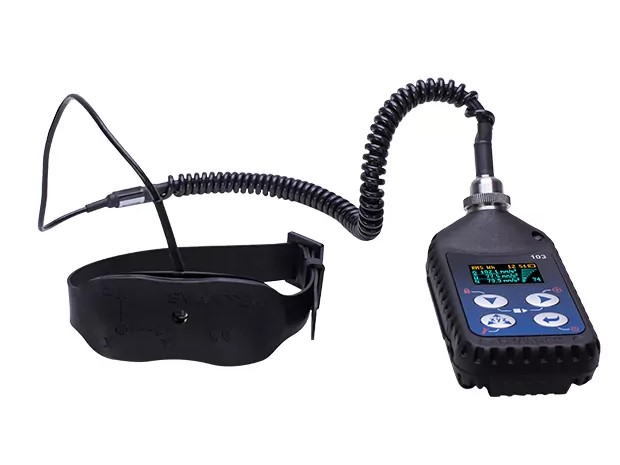 The SV 103 from Svantek attaches to the user's arm to significantly increase measurement certainty. The instrument is small enough to take daily vibration exposure measurements without interfering with normal working activities. The measurements meet the requirements of ISO 8041 and ISO 5349.
The SV 103 uses Svantek's latest accelerometer which includes a contact force sensor. Contact force is a measurement of how firm the user is holding a vibrating tool. This instrument displays the contact force readings right on the screen.
The accelerometer is based on MEMS (micro-electromechanical systems) technology. MEMS offers shock resistance, low power consumption and frequency response down to DC.

SV 106A Human Vibration Meter


The SV 106A is a pocket-sized six-channel human vibration meter and analyzer.
It enables simultaneous measurements with two triaxial accelerometers.
The SV 106A is available with RMS, Peak, Peak-Peak, VDV, MTVV or dose results such as A(8) and AEQ with all required weighting filters for human vibration measurements.
Users can perform 1/1 or 1/3 octave real-time analysis simultaneously.
This instrument features advanced time-history logging and time-domain signal recording to a microSD card.
Users can transfer results to a PC via USB cable.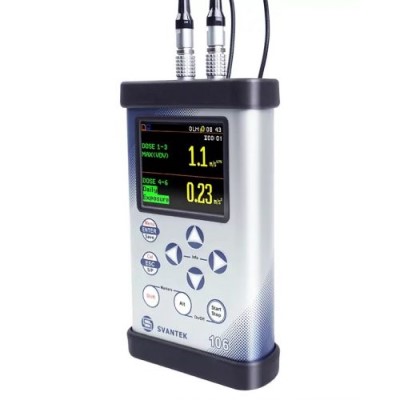 SV 100A Whole Body Vibration Dosimeter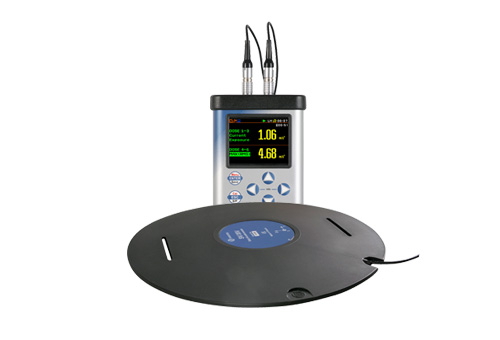 The SV 100A is a wireless whole-body vibration exposure meter. It's suitable for taking measurements on the seat and seat-back. The device has four push buttons and an OLED display for basic configuration in the field.
The SV 100A has an 8 GB internal memory to store all measurements and allows for continuous recording over long periods. The standard 2.0 USB interface offers fast data download and is used for battery recharging.
For advanced users, the SV 100A offers frequency analysis in 1/1 or 1/3 octaves. It also offers time-domain signal recording to wave format under ISO 2631 that is compatible with recalculation software.
The SV 100A is configurable with Svantek's Supervisor software. It can also be set up for weighting filters required by ISO standards.

Building and ground vibrations


SV 258 PRO Noise and Vibration Monitoring Station
The SV 258 PRO measures building vibration with a method based on peak particle velocity and dominant frequency. You can now measure human vibration in buildings thanks to simultaneous velocity measurement and acceleration of vibrations with two independent recording steps. You can also enrich the measurement with Class 1 sound results.
Users can use predefined settings compatible with common standards like DIN 4150-3 or BS 7385-2 or configure a criterion curve based on FFT or 1/3 octave analysis under local standards.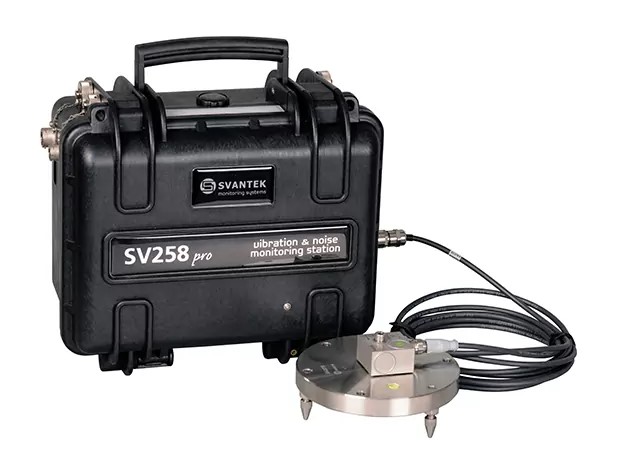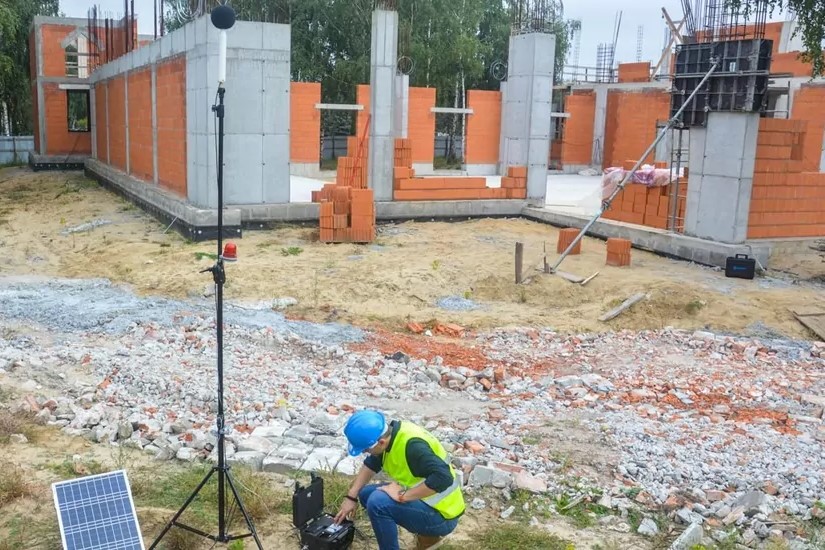 The built-in GSM modem transmits measurement data to the SvanNET server. The user can access current data, historical data and generate measurement reports. The system generates text, email notifications and visual and audible alarms (optional alarm lamp).

SVAN 958A Four-Channel Sound & Vibration Meter


The SVAN 958A class 1 four-channel sound and vibration analyzer works for any application requiring simultaneous class 1 sound and vibration assessment. Users have enormous measurement flexibility because each channel can be independently configured for sound or vibration detection with different filters and RMS detector time constants.
The 958A can perform advanced analysis simultaneously to the level meter mode. This gives users broadband results such as Leq, RMS, LMax, LMin, LPeak together with four-channel analysis like FFT or octave band analysis.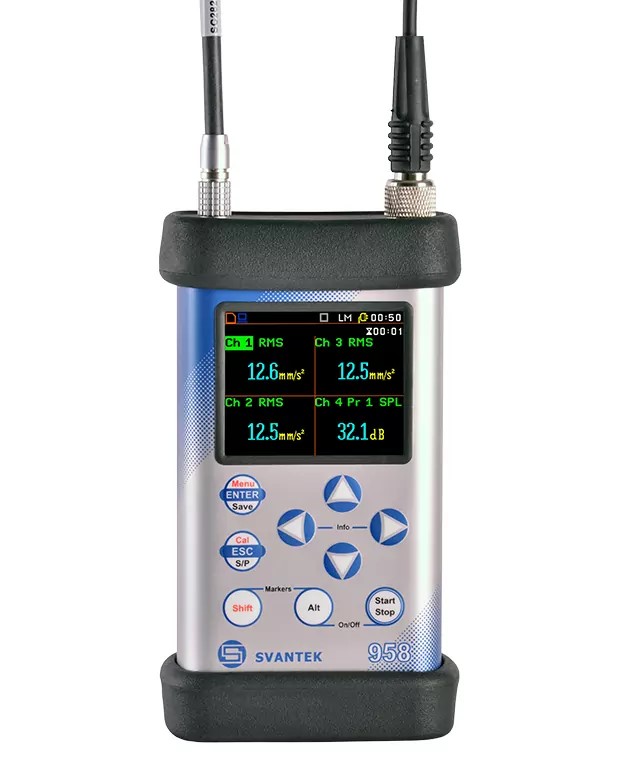 SVAN 977C Class 1 Sound & Level Meter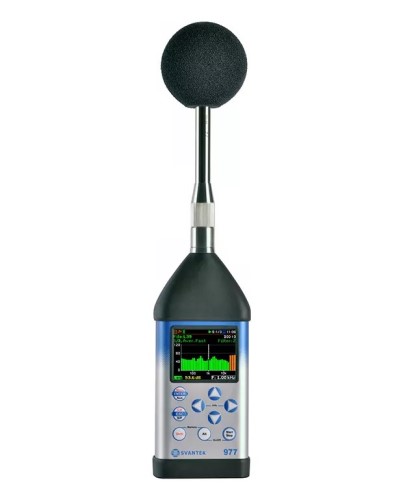 The SVAN 977C is a class 1 sound and vibration meter designed for building acoustics, occupational noise and environmental noise measurements. It comes with a new 1/2″ microphone for wide frequency range from 3 Hz and excellent long-time sensitivity stability.
The SVAN 977C has built-in Bluetooth® for wireless connection with smartphone applications like Building Acoustics Assistant. This extends measurement capabilities dedicated to building acoustics.
The user can also use the SVAN 977C as an ultrasound measurement band up to 40 kHz. Ultrasound is used in a number of industrial processes such as cleaning, drilling or welding as well as hospitals for medical procedures.
Ready to learn more?
Levitt-Safety is Canada's leading provider of occupational health and safety instruments for measuring vibration. We can provide product recommendations, quotes and user training to ensure your team gets the best product for your needs.
Fill out the form on this page to get started and a member of our team will contact you.