Hearing Protection Fit Test
Talk to a safety specialist

What is a hearing protection fit test?
Devices used to measure how well hearing protectors fit a wearer are finding their place in workplace health and safety programs.
These devices are commonly referred to as field attenuation estimation systems or FAES for short. They provide a measurement for the real attenuation provided to a user wearing a hearing protector like an ear plug or earmuff.
FAES will determine a personal attenuation rating (PAR) specific to the wearer and the make/model/size of hearing protector.
This rating often differs from the noise reduction rating (NRR) for a given hearing protection device (HPD). The PAR can then be used to determine if the hearing protector provides adequate protection for the user.
FAES are valuable additions to any hearing loss prevention program as they help wearers understand the importance of proper selection, use and care of their hearing protector. FAES can be used to show how choosing the right shape and size of earplug along with proper insertion technique can affect the level of protection.
We offer FAES options from Honeywell, 3M and Tremetrics.
Style of hearing
protector


Honeywell™ VeriPRO™ Fit Testing System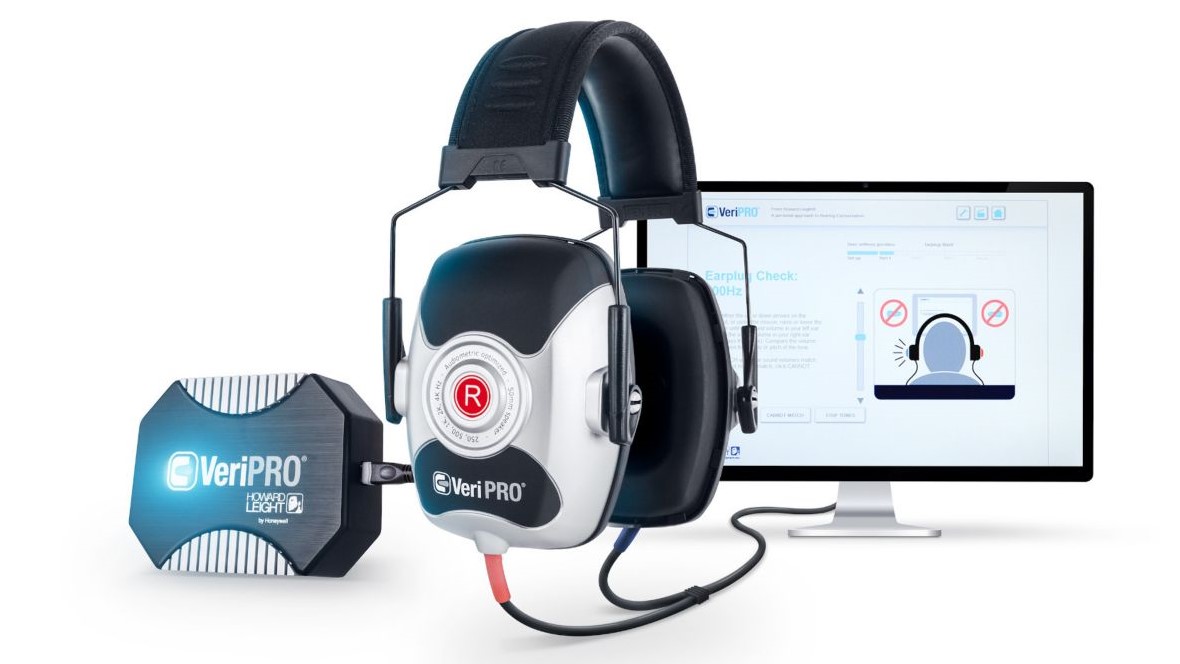 VeriPRO's three-part process checks the effectiveness of an employee's ear plug fit in each ear over a range of frequencies. The safety manager can then view this information in individual reports.
The software was designed to be easy to install on a PC, with a straightforward interface and is simple to operate even for people who aren't regular computer users.
The VeriPRO headphones are optimized for use with any earplugs and calibrated to the tones used in the VeriPRO test.
The audio processor converts the digital signal from the software, calibrates it to the headphones and amplifies the sound.
Features and benefits:
Measures the PAR for each employee.
Works with any earplug — corded or uncorded — from any manufacturer.
Fulfills regulatory requirements to ensure the proper initial fit of hearing protection.
Documents training and a proper fit for new or existing employees.
Provides an ideal opportunity for one-on-one education.
3M™ E-A-Rfit™ Dual-Ear Validation System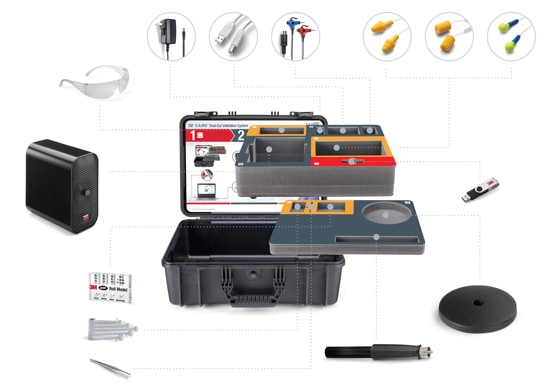 3M E-A-Rfit offers a complete solution for hearing protection fit testing. It lets users fit test dual-ear and earmuffs with a user-friendly interface.
Individual fit testing using F-MIRE
Using field microphone-in-real-ear (F-MIRE) technology, E-A-Rfit generates a personal attenuation rating (PAR) in under 5 seconds for both ears. The test takes seven standard measured testing frequencies into account.
Fit testing in three steps:
Fit: Have the employee insert their earplugs or put on their earmuffs.
Test: Connect to microphones and begin speaker test sound.
Assess: Use PAR to customize hearing protector selection.
Features and benefits
Tests both ears simultaneously in under 5 seconds.
Earplug and earmuff testing capability.
Fast and easy way to find an employee's personal attenuation rating (PAR).
Tests for seven frequencies from 125Hz to 8000Hz.
Science-based quantitative testing.