Talk to a safety specialist
Wheeled Extinguishers
---
RedLine wheeled dry chemical extinguishers are specially crafted for high-risk fire hazards. With the ability to be fully operated by just one person, these industrial wheeled fire extinguishers exceed hand-portable ones in agent capacity, all while maintaining high mobility.
When it comes to wheeled extinguishers, you have the flexibility to choose between dry chemical and dry powder agents designed for specific fire classifications. All wheeled extinguishers are constructed with corrosion-resistant finishes and offer options such as quick-opening valves, extended-range nozzles, and specialized wheels.
Robust and Portable Protection:
Exceptionally mobile and user-friendly
Self-contained for single-person operation
Effortless operation and upkeep
Certified by UL/ULC
Approved by FM and USCG
Offers a wide range of agent options
Equipped with corrosion-resistant coating
Backed by a six-year limited warranty
RedLine extinguishers can withstand harsh environments, consistently, day in and day out, year after year.
Two Wheeled Extinguishers to Fit Your Application:
---
With the C Models, you get larger wheels, a nitrogen cylinder with regulated pressure, and an agent tank. Its wheel placement ensures good balance and maneuverability. The RED LINE C Model extinguishers are self-contained and come with high-capacity tanks filled with various extinguishing agents, including FORAY (Class ABC), Purple-K (Class BC), PLUS-FIFTY C (Class BC), MET-L-X (Class D), MET-L-KYL (Pyrophoric), and LITH-X (Class D).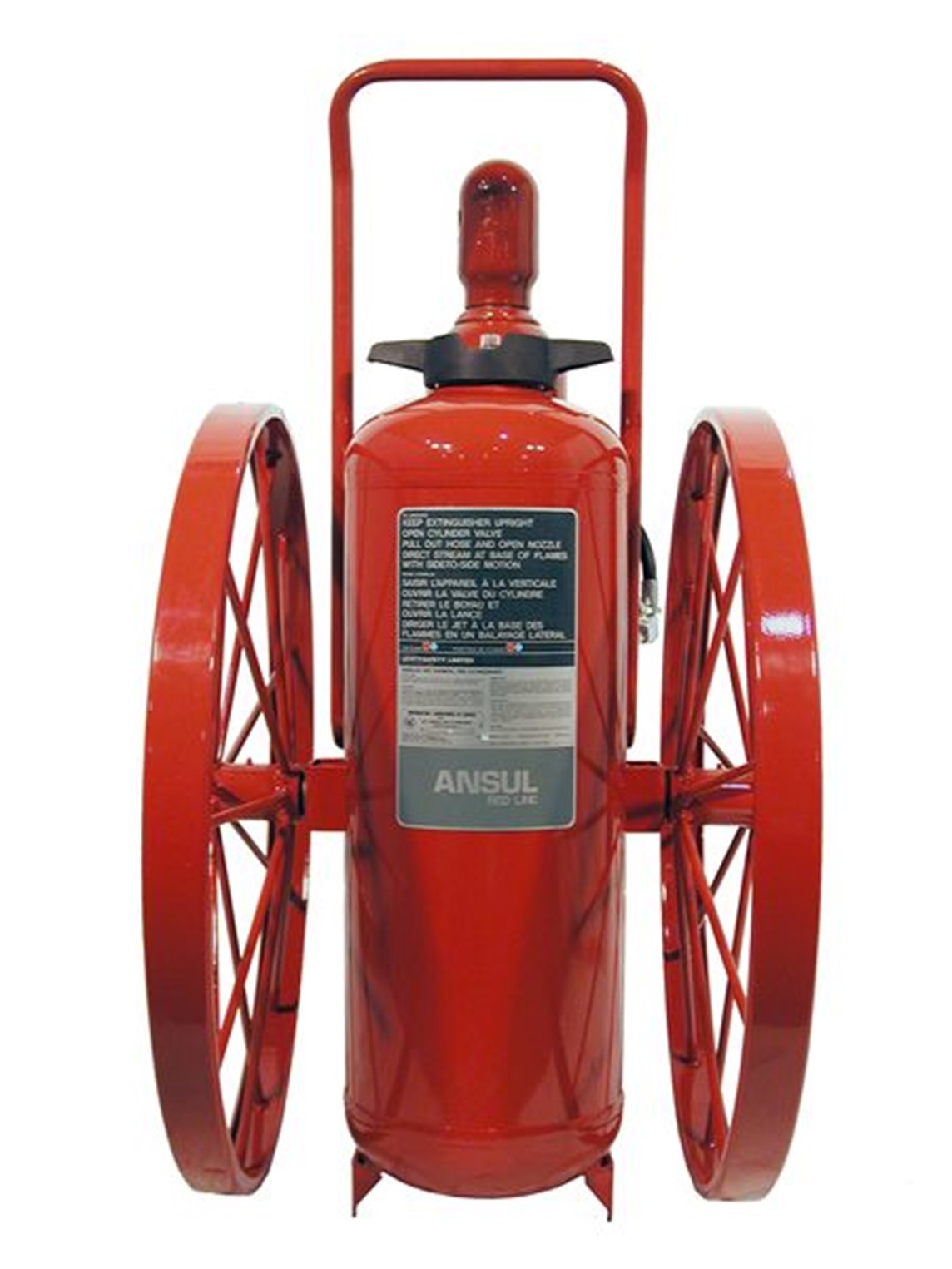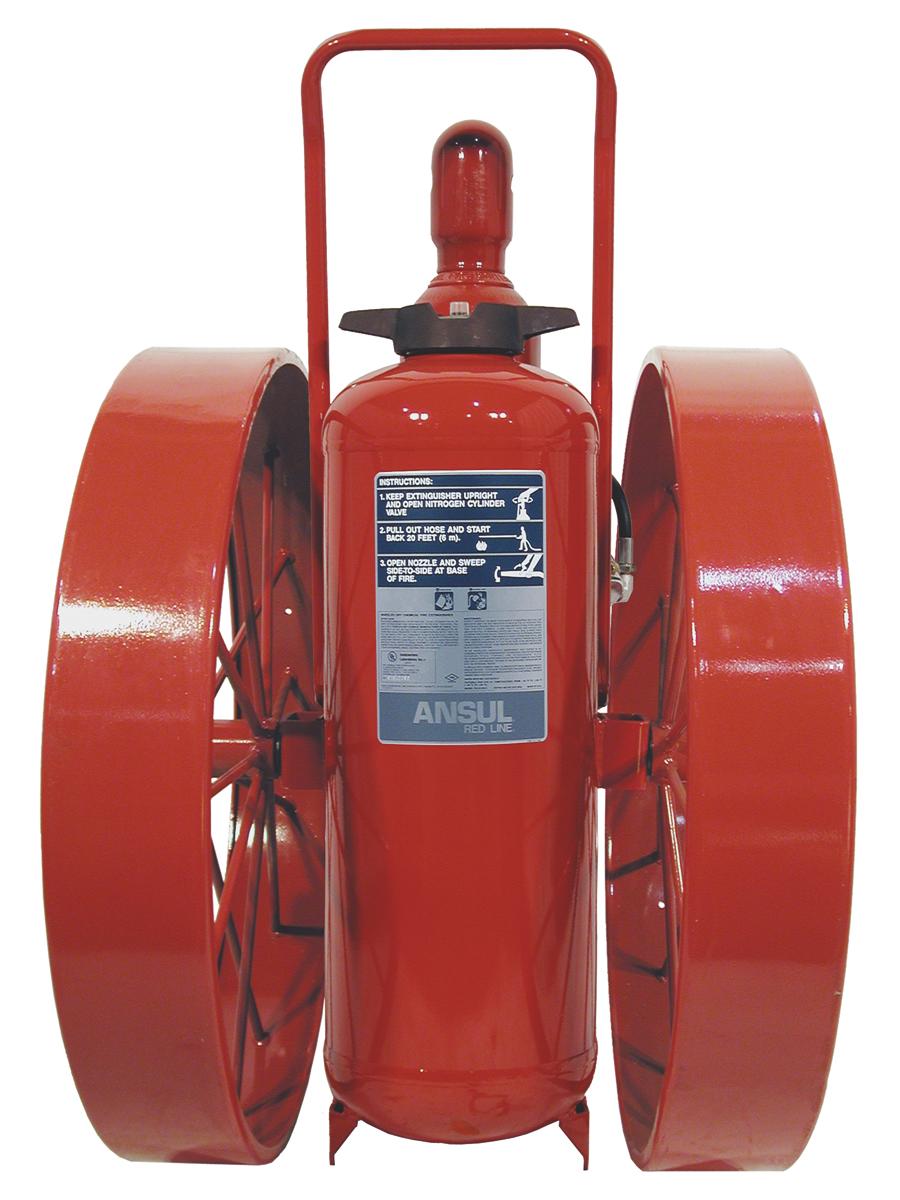 On the other hand, the D Model is a more compact and cost-effective option with smaller wheels, a nitrogen cylinder, direct pressure feed(non-regulated) and a shorter agent tank. This design reduces shipping weight and makes it easier to maneuver and store. RED LINE D Model extinguishers are also self-contained and equipped with high-capacity tanks filled with dry chemical extinguishing agents, including FORAY, Purple-K, and PLUS-FIFTY C.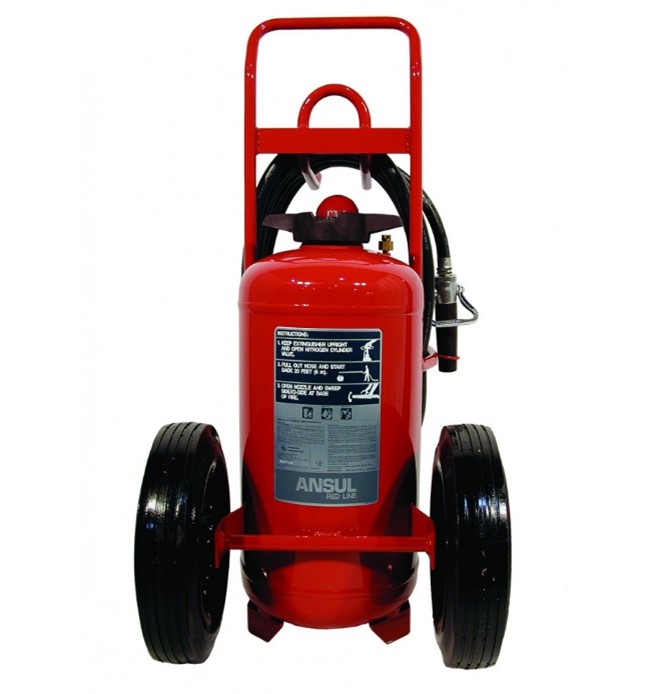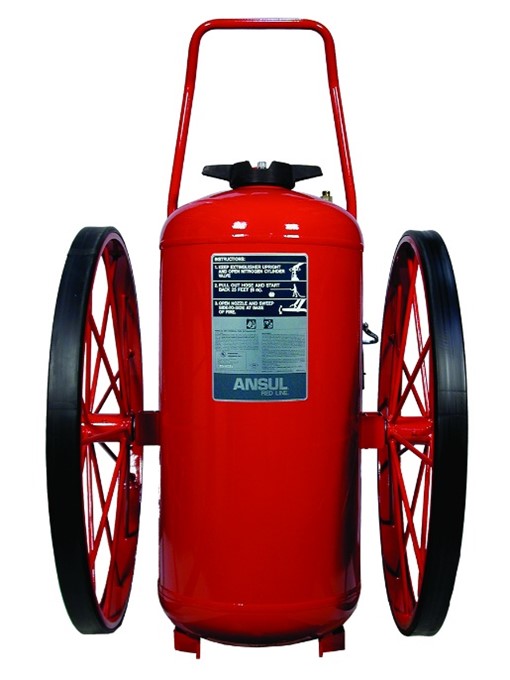 There are two sizes of the RED LINE Wheeled C and D Models, both of which can carry 150 pounds (68 kg) or 350 pounds (159 kg), depending on the agent you select. Contact us today to help you determine the right model for your application.