Find the best winter work gloves in Canada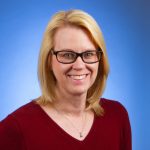 Leslie Molin
Market Segment Manager - Personal Safety
February 13, 2023
This post is going to be your best friend this winter. We outline the best winter work gloves by category and explain what you need to look for when working outdoors in cold Canadian weather.
Best winter work gloves by category: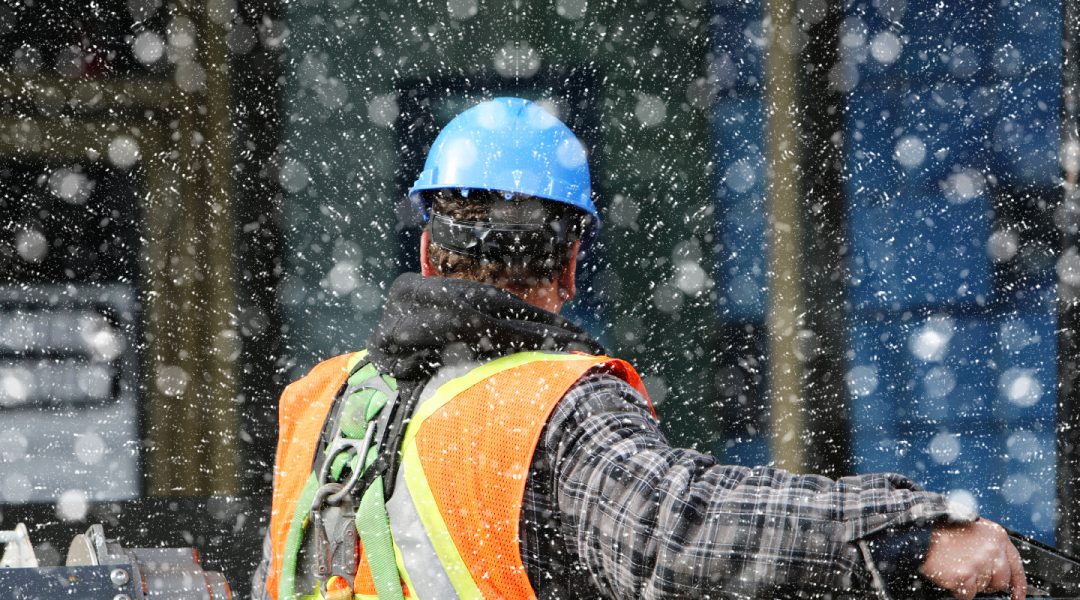 1. Finding the right insulation
It's not the insulation directly that keeps your hands warm. Insulation traps air and the air keeps your hands warm. The most common types of glove insulation are:
cotton flannel
boa acrylic
wool
Thermolite, and
Thinsulate
Insulation has two major drawbacks for workers.
It limits your hand's freedom of movement
It can trap moisture as well as the air
The best option we've found to tackle both of those problems is Thinsulate by 3M.
Thinsulate is a woven synthetic material that traps your body heat without trapping moisture. It's also thinner than an option like wool. Thinsulate will keep you warm and comfortable for a full workday.
One of our best winter gloves that feature Thinsulate is the Clutch Gear® Winter Mechanics Glove with Impact Resistance.
---
Clutch Gear® Anti-Impact Winter Glove
What makes this Clutch Gear glove the best for winter work?
Back-of-hand protection to resist moderate impact hazards
Leather palms for great abrasion resistance
C100 Thinsulate lining traps air for warmth and removes moisture
Kevlar lined for high cut protection
High visibility backing increases worker visibility on the job
An ID label to personalize your gloves and prevent loss
Protection rating: ANSI level A5 cut, level 4 puncture, level 2 impact resistance, -15°C/5°F cold protection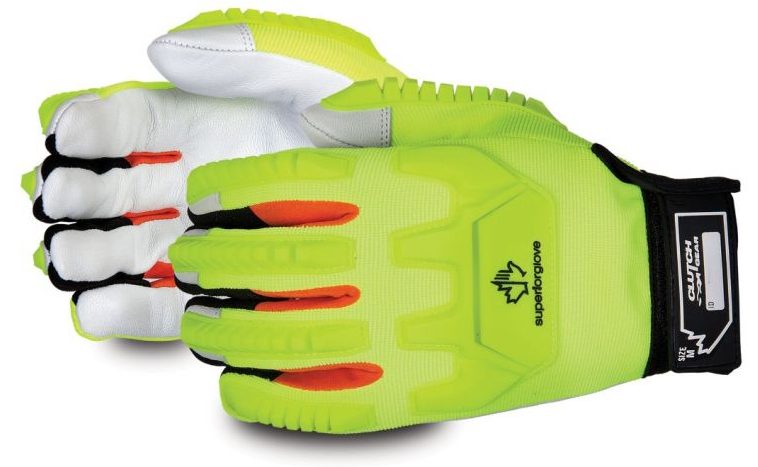 ---
2. Get a glove that fits
Avid readers of our blog (or Levitteers as they prefer to be called) already know about the importance of finding a good fitting glove from our post 5 mistakes you're making when choosing work gloves.
We'll expand on it here for those less familiar.
The ability to trap air is key to staying warm. If your glove doesn't fit right, you're going to be cold.
Here's the fit you need to find in winter work gloves:
Fingertips: There should be a bit of room between your fingers and the end of the glove.
Base of the fingers: Look for room between the glove and the webbing at the base of your fingers.
Wrist: Consider the jobs you're do. If you're extending your arm a lot and your coat will ride up, you'll want a glove with longer cuffs to keep the snow out.
---
3. Weaterproofing
It's not just the cold you have to worry about, it's also wet and slushy weather.
In these scenarios, you need a coated glove.
SnowForce™ Extreme Cold Winter Gloves
Three layers of insulation for maximum warmth with minimum bulk
Porelle Ski-Dri2™ waterproof, breathable inserts lock out water and wind
Kevlar and stainless-steel covered, foam-padded knuckle strap protect against knocks and bumps
Clarino® palms for longer lifespan
Anti-slip PVC patches on palm and fingertips provide excellent grip in wet and wintry conditions
Gauntlet cuffs with Velcro® tabs and elastic at the wrist ensures a snug fit
Protection rating: Level 3 puncture, -31°C/-22°F cold protection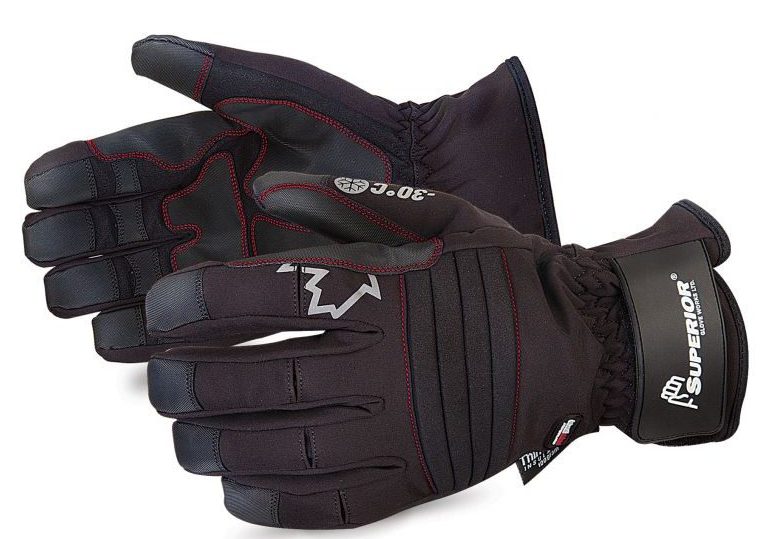 ---
4. When to choose mitts over gloves
Gloves are the go-to choice for a lot of industries because they allow for more freedom of movement.
But, mitts should not be overlooked.
Mitts are amazing in extremely cold conditions or when you'll be outside for a long time.
Since mitts keep your finger together, rather than separated by material, they trap more warm air and can keep you warmer for longer.
---
5. Increase your grip
Waterproofing may not be your main concern when working outside in the winter. On snowy days, your main desire might be for a better grip.
Look for coated gloves, like the Dexterity® Red Winter Gloves with Full PVC Coating. The PVC has micropores that act like suction cups to give you a better grip in wet conditions.
There's also a version that only has a coating on the palm. What's great about this version is it gives more liquid protection from water to the back of the hand in case you need it.  
Dexterity® Winter Gloves with PVC Coating
PVC coating has great flexibility in sub-zero temperatures
Fleece lining is soft and warm
Quick-drying and lightweight for all-day comfort
Protection rating: Level 3 abrasion, level A3 cut and level 2 puncture, -5°C/23°F cold protection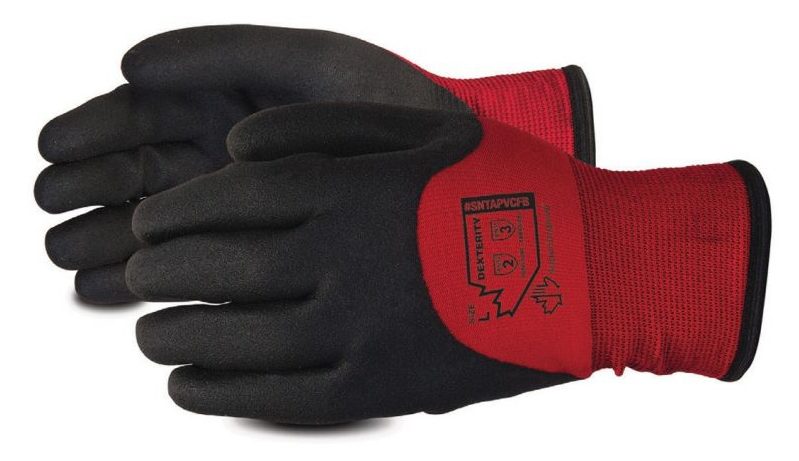 Remember: Don't overdo it
So far in this post, we're focused on how to stay warm, but there is some finessing involved.
You cannot go out and buy a glove with the most amount of insulation.
If you do that, your team will be taking their gloves off because their hands are too hot. Then you have a compliance issue -- a topic we cover more in our post "5 winter work problems (and the products that solve them)"
Need help with your hand protection program?
Sign up for our free glove review program to improve safety and reduce injuries.