Talk to a safety specialist
Speedy measurements in emergency situations
The ability to measure over 300 different gases with an easy-to-use pump has made Gastec the detector of choice for so many workers around the world.
Levitt-Safety is proud to be Canada's distributor of Gastec's world-class gas detection system. 
Whether you need gas detection for a routine inspection or a Hazmat emergency, you can count on the Gastec line of colourimetric detector tubes to precisely identify and measure your particular gas or vapour.
What is unique about Gastec?
Gastec's patented gas sampling pumps offer smooth, precise measurements with no risk of partial samples. No other manufacturer has more detector tubes certified by the U.S. Safety Equipment Institute (SEI) than Gastec. 
Plus, all Gastec products are manufactured in ISO-9001-certified facilities.
Pre-calibrated, direct-read colourimetric detector tubes offer distinct lines of demarcation for easier viewing.
Tubes do not require interpretation, dual scales or colour charts.
Tubes can measure even trace levels of contaminants with multiple detection limits for different chemicals.
Gastec's higher maximum detection limits can provide a more accurate measurement of contamination.
Broad operating temperature ranges mean the tubes can be used in virtually any environment – from 32°F to 104°F.
Measure up to 15 gases in a single test session:
In addition to single-gas detector tubes, Polytec Tubes are available to simultaneously measure up to 15 gases during a single test session, providing cost-effective monitoring and chemical identification.
For TWA (time-weighted average) monitoring of airborne chemicals, Gastec direct-read dosimeter tubes offer three times more applications and double the shelf life of the leading competitor.
---
The Gastec Hazmat Kit


The Gastec Hazmat Kit is designed to provide hazard information quickly to hazardous response teams in emergency situations. Chemical accidents (releases, spills, transport accidents) require a fast assessment of the airborne concentration level for a quick safety evaluation of the area.
Each kit includes:
Pelican Case 1500 (with padded inserts)
Pelican Case Lid Organizer
Gastec Pump (IGV110S)
Gastec Smoke Test Kit (IG6500)
Gastec Polytec Tube V (IG28)
Gastec Handbook 13th (IGBOOK14)
Gastec Pump 1 Hand Adapter (IGGV700S)
Gastec 5 Meter Extension Hose (IG351A)
Gastec Hazmat Kit Decision Chart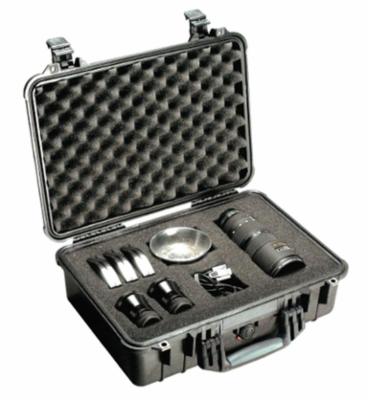 ---
Gastec Passive Dosi-Tubes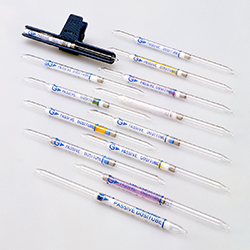 Gastec Passive Dosi-Tubes are used to measure time weighted average (TWA) gas concentrations over several hours. The Dositubes do not require the use of a sampling pump as ambient air diffuses through the tube.
Each tube is filled with a diffuser and chemical reagent in parallel that allows the gas to disperse at a constant flow. This provides longer discolouration and better demarcation. The tubes are normally attached to the worker's collar or clothing in the breathing zone with the holder and collar clip.
Easy operation:
Step 1: Record Start Time
Step 2: Break tube end
Step 3: Place in the tube holder
Step 4: When the measurement is finished, write down the finishing time
Step 5: Find the TWA using the formula; TWA (ppm) = Dositube reading (ppm=hr) / Actual sampling time (hr)
The Gastec Polytec system consists of the Model GV-110S gas sampling pump and the Polytec tubes. The Polytec tubes are unique detector tubes, each having 1 to 8 reaction layers to determine multiple unknown substances in the sample simultaneously. When you pull the handle of the pump and wait for a predetermined sampling time, the colour(s) of the Polytec tube's layer(s) change uniquely according to the contents of the sample.
Five types of Polytec tubes are available:
Polytec I (No.107),
Polytec II (No.25),
Polytec III (No.26),
Polytec IV (No.27), and
Polytec V (No.28)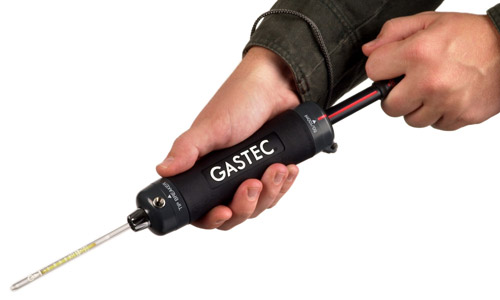 ---
Gastec Pyrotec Pyrolyzer System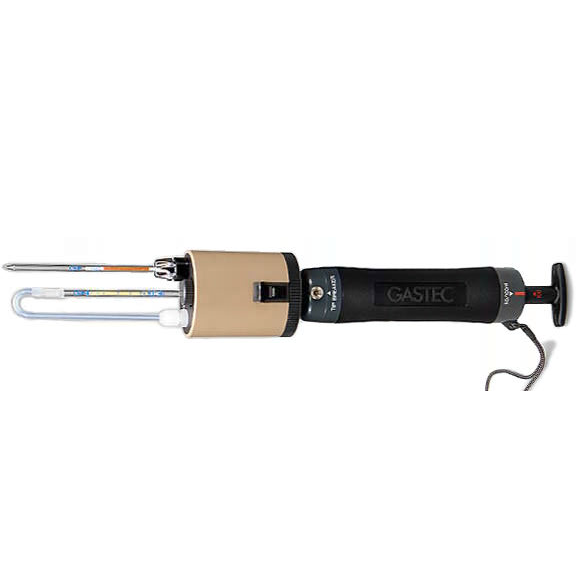 Fluorochlorocarbons have been linked to ozone depletion in the upper atmosphere, yet they have been used in a wide assortment of industries for their excellent properties, including in-combustibility, chemical stability, and insulation capability.
Conventionally, the measurement of these gases requires expensive equipment and skilled specialists. The Gastec Pyrotec System has made this monitoring easy and economical by combining detector tube technology and a portable pyrolyzer.
Fast, accurate, and easy measurements on the spot
A variety of applications including measurements at the gas generating sources to confirm gas concentrations or at workplaces to detect gas leakage
---
Gastec Smoke Tester Kit
The Gastec Smoke Tube Test Kit allows users to quickly and easily monitor the flow of air within the workplace using white smoke. The test kit produces smoke that's used to determine the direction of airflow for quick and easy analysis.
Each kit includes: 
Pack of 6 smoke tubes
Rubber caps
Rubber aspirator bulb
Carrying pouch
Instruction sheet
How to use:
Break off both ends of the smoke tube.
Attach a rubber squeeze bulb to one end of the tube.
Squeeze the bulb to produce a chemical reaction produces white smoke.
This smoke makes the air flow (in ventilation systems/ducts, etc.) visible.
A single tube can be repeatedly used for about 50 tests!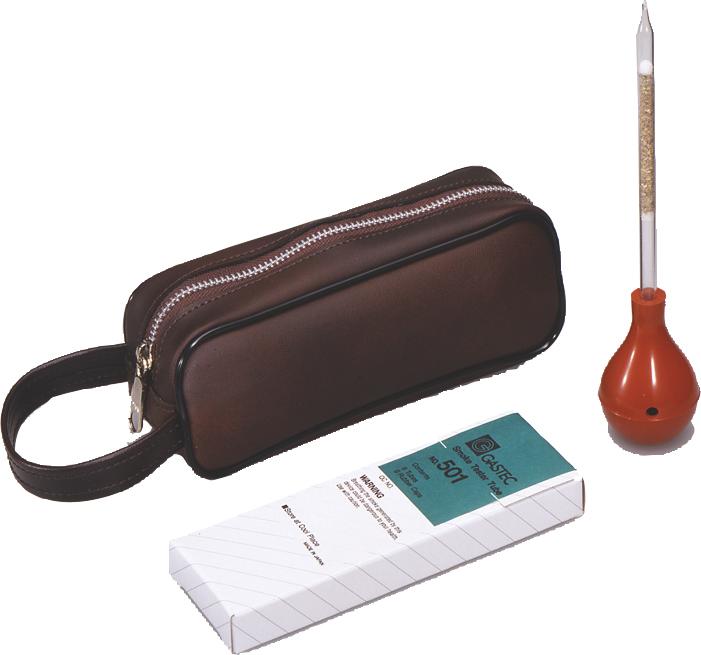 ---
Ready to learn more about Gastec?
Levitt-Safety offers a variety of accessories to expand detection capabilities with the Gastec system, such as extension hoses, a telescoping extension pole, a hot probe, and a one-hand pump adapter. 
Not sure which solution is right for you? Fill out the form on this page, and a member of our team will contact you. We can provide product information, and pricing and answer any questions you may have.