Engineered Fall Protection
Categories
Talk to a safety specialist
Fall protection equipment
Falls are one of the leading causes of workplace injury and fatalities in Canada. In some provinces falls account for 1 in 3 worker injuries.
You have a duty to protect your workers by managing the risks they face when working at heights.
Do you know how to assess and control the hazards that are associated with working at heights? Are you providing your employees with adequate fall prevention and fall protection? Most of the deaths that result from falls while working at heights happen because fall protection was missing, or not used at all.
When do I need to use fall protection?
when working on an unguarded structure or vehicle at a height of more than 2.4 meters from the nearest permanent safe level, or above any moving parts of machinery or any other surface or thing that could cause injury to a person on contact
when working on a temporary structure at a height of more than 6 meters above a permanent safe level
when working on a ladder at a height of 2.4 meters above the nearest permanent safe level where the person is unable to use at least one hand to hold onto the ladder



Looking for something specific?
Levitt-Safety offers a complete range of equipment, service and training options to keep workers safe and businesses running. Click an offering to learn how Levitt-Safety can help or fill out the form on this page to speak with a safety specialist.
Fall protection in confined spaces:
In confined space entry and confined space rescue situations, your safety equipment must operate quickly and flawlessly. We provide an extensive line of high quality, rugged rescue and retrieval systems that meet a variety of confined space safety needs, including customized solutions. Our confined space safety systems have delivered decades of trusted service and meet applicable industry standards, so it's no surprise that our confined space equipment is the first choice of safety engineers and site directors.
Confined spaces vary in size, shape and location and there isn't a standard or typical application. A confined space safety system can usually be divided into either a "vertical" entry type system or a "horizontal" type.
If entering confined spaces such as a manhole on a street vertical confined space rescue equipment is needed. Some confined spaces require entry from the side such as a tank, and for these, you'll need a side-entry or horizontal type confined space safety equipment.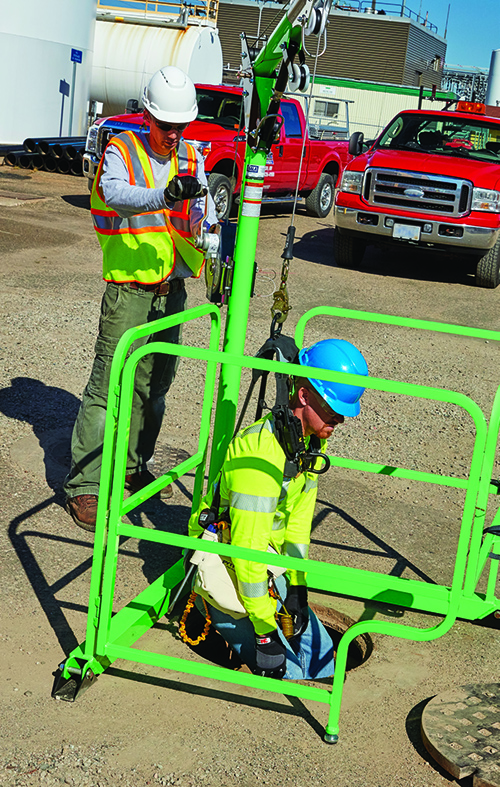 Fall protection safety equipment:
Levitt-Safety is a national supplier of fall protection safety equipment. We carry a variety of working-at-heights solutions. Use the product categories menu on this page to browse through the equipment we offer from leading manufacturers like 3M, Honeywell and MSA.
Looking for more help?
Levitt-Safety carries fall protection products to keep your team safe while working at heights.
If you need help choosing the best fall protection equipment for your employees, fill out the form on this page and a member of our team will contact you.