SafeStation Safety Data Sheet Management
Talk to a safety specialist
What is SafeStation?
SafeStation is an industrialized computer installed in a warehouse, shipping/receiving area, store, tool crib, vending machine area or on the manufacturing floor.
The machine will update overnight to display any new information you upload, including:
safety data sheets (SDS)
work procedures
permits and company communications to workers
print labels
safety procedures
permits, forms, maps
employee training
intervention plans, or
any documents your staff needs to work safely.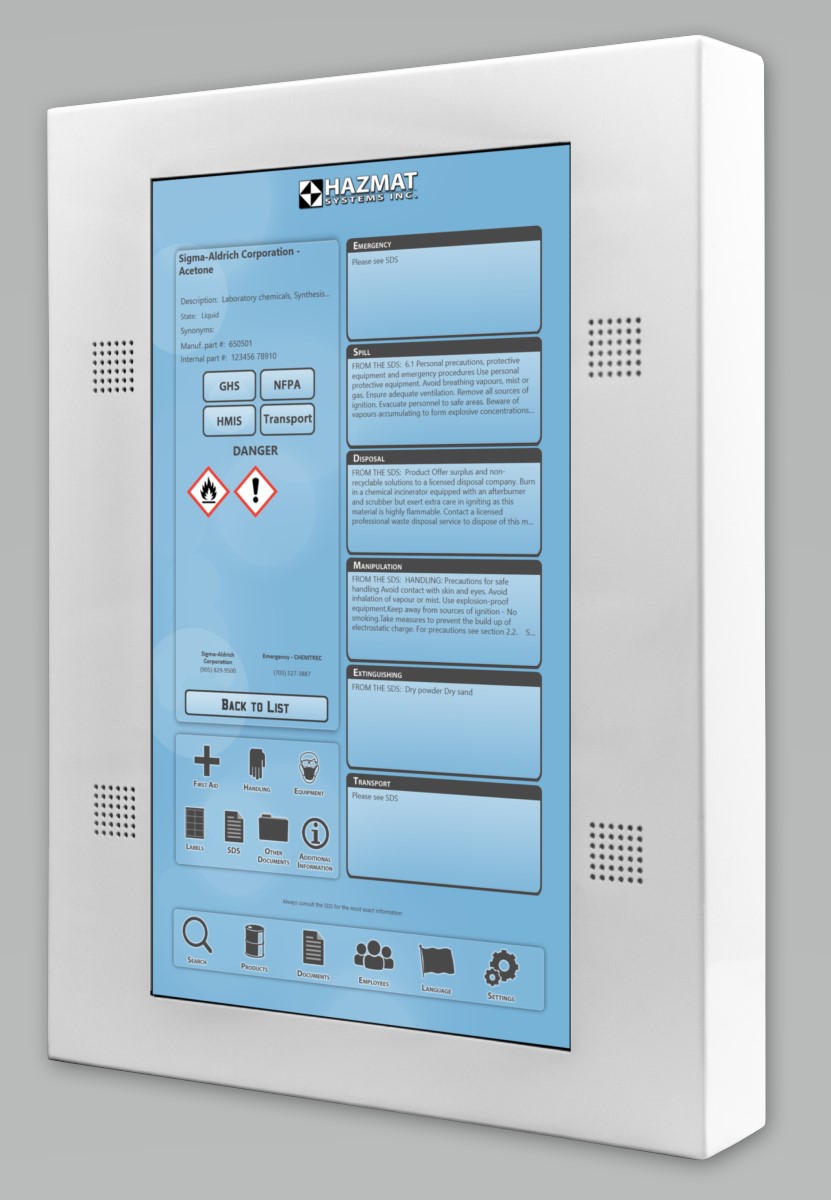 Your team can view the information on-screen using the touchscreen and can print information when connected to a local printer. This makes it easy to provide your team with the most up-to-date version of company permits, policies and work procedures.
Key features:
Print fully-compliant labels, including GHS labels, for your secondary containers.
Access safety procedures, permits, forms, layouts, maps or any other type of document you wish to transmit to your employees.
Access training, take courses and exams through the fully-integrated Learning Management System (LMS).
Communicate with emergency contacts and services using the built-in microphone and speaker (VOIP).
Say goodbye to the safety binder:
SafeStation gets rid of the need for multiple binders to store the above information. It also makes it easier and less time consuming to find the right information using the machine's search function.
Why choose SafeStation?
It's user friendly:
Hazmat Systems

designed the SafeStation for an intuitive, user-friendly experience. Any worker with basic computer knowledge will be able to use the machine.
Each SafeStation can be connected to a local or network printer, allowing you to print any document, including SDSs.
English, French and Spanish language options available.
Used as an effective administrative control to improve workplace safety.
Installed directly in the workers environment:
The SafeStation is built to withstand just about anything you can throw at it including dust, humidity, heat and cold.
You can configure multiple SafeStation systems to contain only the information needed in a given area.
Only uses your data:
The data on a SafeStation is your data. You own it – you manage it. It's not a shared internet database you have no control over.
An administrator loads and updates the data directly in the SafeStation. The administrator can send new data to the appropriate unit.
Built-in hierarchy of control with user, administrators and master administrators.
Does not require internet connection:
An online-only solution will often not get approved by your governing health and safety agency because of its dependence on an internet connection. This is not a problem with the SafeStation since every unit has its own local database. The internet is only required to update the unit.
Get a quote:
Fill out the form on this page if you'd like to learn more about the SafeStation or get a quote for your facility. A member of our customer experience team will reach out to you shortly to discuss your needs and provide a quotation.