Establish your essential arc flash program in 4 steps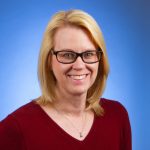 Leslie Molin
Market Segment Manager - Personal Safety
February 17, 2021
The fifth edition of CSA Z462 — Workplace Electrical Safety was published in January, so we wanted to take a look at the four steps you need to take to establish your own arc flash program and the types of PPE you need to protect workers.

We hosted a webinar 23 about the changes to CSA Z462. Watch now


Arc flash injuries are incredibly rare but account for a disproportionate number of work-lost days. Injuries tend to be severe and the fines and victim payments can be quite steep, as one company in Kitchener Ontario experienced recently when they were ordered to pay $55,000 after three workers were injured.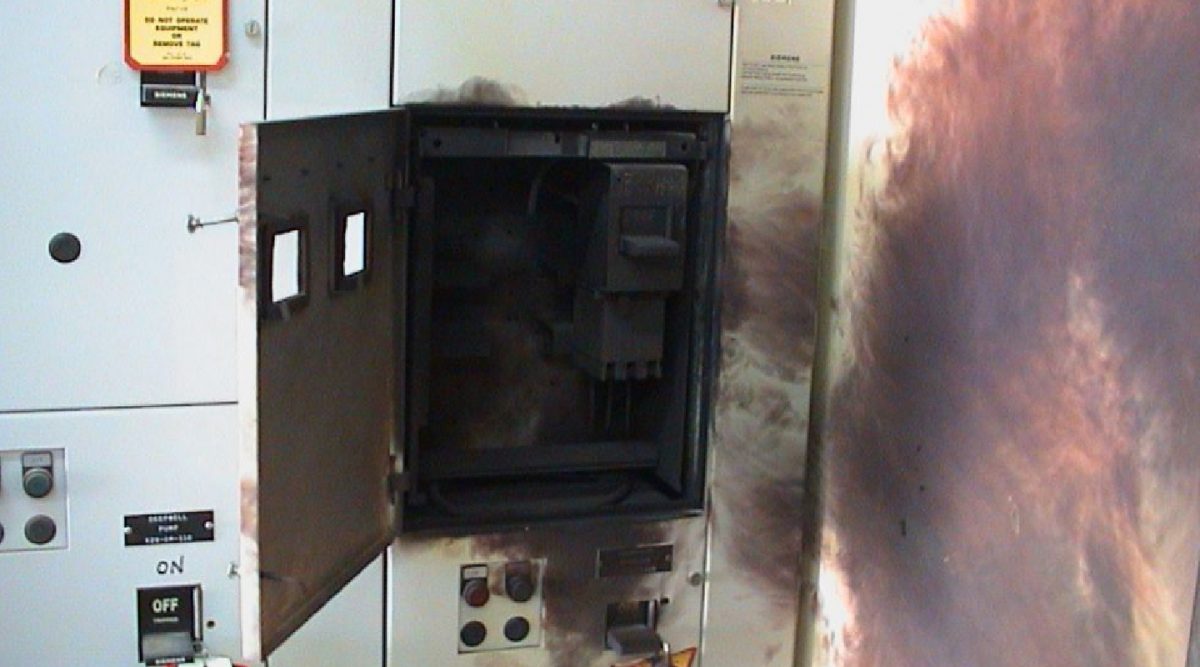 What is an arc flash?
An arc flash is an electrical explosion caused by the accidental release of electrical energy from two conductive sources (e.g. wires) across an air gap (meaning they are spaced apart and not connected). They are hazardous for many reasons:
Heat up to 19,426 °C – nearly as hot as a lightning bolt!
Make sound exceeding 160 dBA – the same volume as a space shuttle launching
Create pressure waves up to 2,000 lbs per square foot
Cause electrical shock
Produce molten metal
Create blinding light
1. Designate an arc flash program administrator
Your workplace should have a designated electrical safety coordinator to oversee your program according to CSA Standard Z462.
The coordinator's responsibilities include implementing proper:
lockout/tagout procedures to isolate electrical energy
administrative controls to reduce possible contact with electrically energized components, and
instructions for handling the electrical hazards.
2. Perform an arc flash risk assessment
Performing an arc flash risk assessment to identify what your hazards are is an important part of your electrical safety program. Your assessment should identify potential electrical shock and arc flash hazards.
According to the new Standard, an arc flash risk assessment shall be performed to:
identify arc flash hazards
estimate the likelihood of occurrence of injury or damage to health and the potential severity of injury or damage to health, and
determine if additional protective measures are required, including the use of PPE.
If there is a potential for an arc flash, you need to recognize how much incident energy (measured in calories) would be released if an arc flash would occur.
You can calculate this using the incident energy or the arc flash PPE category method.
This information also allows you to set your arc flash protection boundaries which tells you how far you need to be away from the source of an arc flash to avoid injuries if one should occur.
3. Identify equipment hazards with labels
All electrical hazards should be identified and labeled accordingly.
Electrical labels are required to state the following:
voltages
arc flash boundaries and approach limits
strength of an arc flash at cal/cm2, and
required PPE.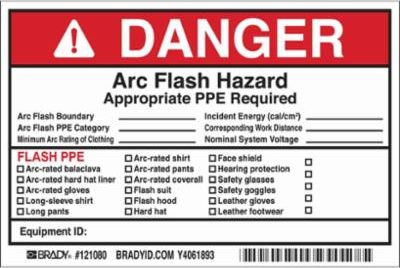 ---
4. Identify your arc flash PPE requirements
You must provide staff with protective equipment that matches the maximum rated cal/cm
2
that an arc flash can release based on your incident energy calculatio,
The latest CSA Z462 Standard added category 5 arc flash PPE.
Here are some recommendations to consider when developing your arc flash PPE program.
Everyday work clothing
Shirt, pants or coveralls are worn daily and provide protection for the majority of tasks performed. Also consider outerwear including rainwear.
Avenger 7 oz Coveralls
7 oz – FR 88% cotton, 12% nylon twill weave, preshrunk fabric
Flame-resistant and guaranteed for the life of the garment
50% more life than 100% cotton
Trim features 3M™ Scotchlite™ reflective material
Multi-purpose protection from electric arc and flash fire
Breakaway zipper
NAFTA – made with North American fabric and components
Lowered X striping on back to allow room for company logo or hooded undergarment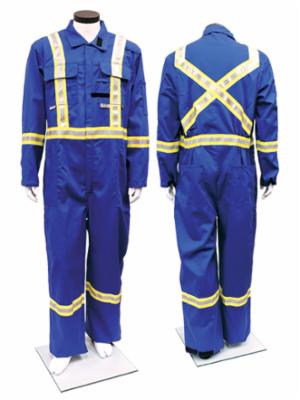 ---
Women's Segmented Striped Fleece Full Zip Jacket
Features 2″ 3M™ Scotchlite™ reflective heat transfer material
55% modacrylic, 45% cotton
Fabric is inherently flame resistant
Full zipper
Slash pockets with VISLON® zippers
Available in sizes XS to 2XL
---
Task wear
These types of applications call for an arc flash suit, a total clothing system including overalls, coat and hood and can range from 25 to 140cal/cm². With the new edition of CSA Z462, a new category 5 has been added. You will need to review your requirements to see if you need to make changes.
Oberon TCG™ 75 Cal Arc Flash Kit (Hood, Coat, and Bib with Light and Vent)
Meets ANSI/ISEA 125 Level 2 Conformity with an arc rating of 76 cal/cm2. Meets NFPA 70E Arc Flash Category 4 or CSA Z462 Category 5 standards. Please refer to your applicable standards for specific selection criteria
Hoods use a patented True Color Grey (TCG™) arc flash face shield technology which produces no color distortion while performing common work tasks and comes with a scratch resistant, anti-fog coating
Arc flash suit set comes equipped with a hood, coat, and bib overalls. The hood comes with a front mounting L.E.D. light and a fresh air hood ventilation system
Black colour
Made in the USA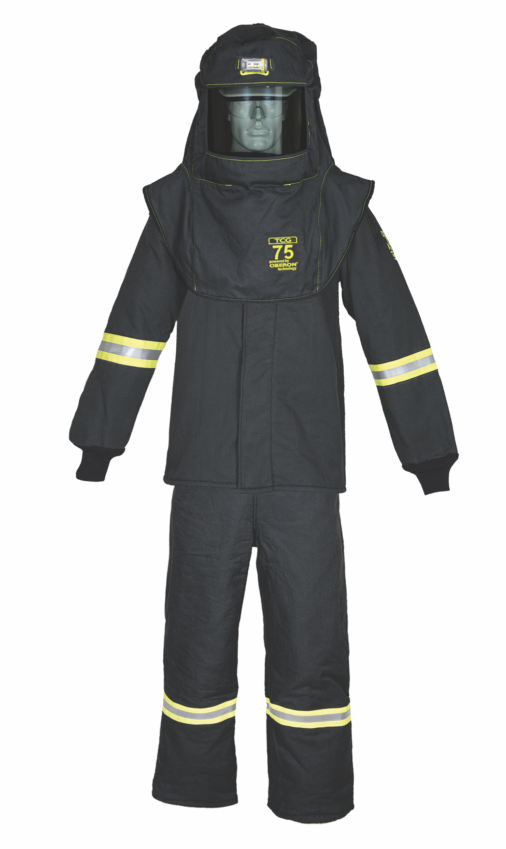 ---
Arc flash gloves
Dexterity® Flame-Resistant Arc Flash Gloves with Neoprene Palm
13-gauge knit shell increases dexterity and hand movement
The glove's engineered yarn blends Kevlar® with a variety of strong and inherently flame-resistant fibers for arc flash protection
Arc flash testing placed these gloves at level 2, with an Arc Thermal Performance Value (ATPV) of 9.2 cal/cm2
Neoprene palm coating is excellent in dry and wet grip, great flame-resistant properties and good resistance to oil
These gloves are treated with Ultra-Fresh to achieve 99.9% antimicrobial status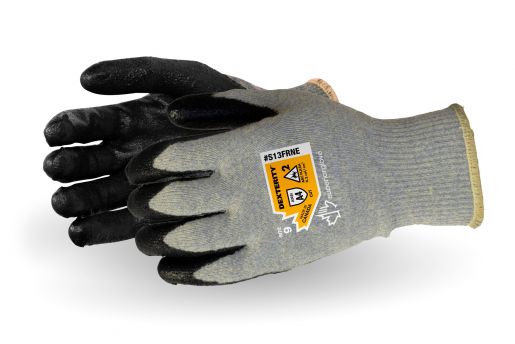 ---
Dexterity® Deluxe Flame-Resistant Arc Flash Gloves with Neoprene Palms
The world's thinnest, most comfortable arc flash level 3 rated glove
Arc flash tested for level 3 with an ATPV of 25 cal/cm²
18 g Kevlar® composite filament fiber shell of protection
Dual cut protection; Glove body - ANSI cut level A3; Cuff only - ANSI cut level A6
Flame-resistant neoprene palm coating for better grip
ESD (electrostatic dissipating) carbon filament to impart anti-static properties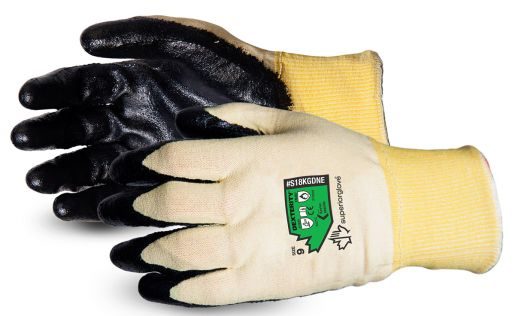 ---
Endura® Cut-Resistant Arc Flash Goat-Grain Driver Glove
Soft and lightweight driver-style, goat grain leather glove is fully lined with a blended Kevlar/composite filament fiber for ANSI level A4 cut protection
Cut-and-sewn knit for optimal fit and eliminate bunching in areas like the thumb
Goatskin has high-tensile strength and abrasion-resistant properties and is often referred to as nature's strongest leather
The cut-and-sewn liner dons much more easily than a seamless knit, since it is tailored to the hand
Keystone thumb provides extra durability
Arc flash testing placed these gloves at level 3, with an Arc Thermal Performance Value (ATPV) of 36 cal/cm²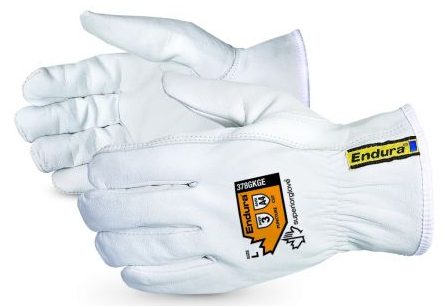 ---
Rubber insulating gloves and leather protectors for shock protection
Rubber insulating gloves are used exclusively for electrical purposes such as power generation, electrical contractors, hybrid automotive repair/service, hybrid automobile manufacturing, industrial plant maintenance, utilities.
PMMI International Glove Kit
Kit includes rubber insulating gloves, leather outer glove and carrying bag
Insulating gloves are class 0 1000 VAC 1,500 VDC
Meet ASTM D120 standard and CSA Z462 for use around electrical hazards
Contoured shape reduces hand fatigue
Natural rubber construction offers the required dielectric properties combined with flexibility, strength and durability
Silicone free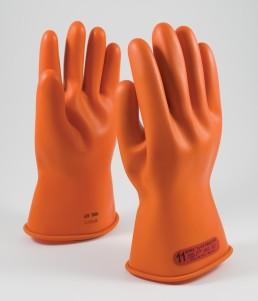 ---
Other PPE to consider:
Along with the PPE mentioned in this post, you should consider the following:
Arc-rated face shield, googles or safety glasses
Arc-rated balaclava
Ear plugs
Hard hat with G rating and arc-rated hard hat liner
Leather footwear
---
Creating an electrical safety program
By following these four steps you can build an essential arc flash safety program for your workplace to help keep your workers safe.
Need help putting your electrical safety program together? We can help!
Fill out the form below and a member of our team will contact you to learn more about your needs and provide solutions.