CO2 detection for storing dry ice and transporting COVID-19 vaccine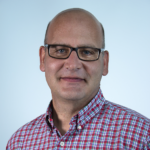 Jonathan McCallum
Market Segment Manager: Occupational Health, Industrial Hygiene & Environmental Monitoring
December 18, 2020
This article was originally published by Matthew Collins of Bacharach Gas Detection. It was republished with permission.
There's a lot of excitement about the COVID-19 vaccines finishing up their phase III trials and giving us hope for putting an end to the current global pandemic. While this is great news, the next hurdle will be distributing billions of doses of vaccines across the globe while maintaining strict temperature limits to ensure vaccine effectiveness.
Each vaccine has different storage temperature requirements for both short and long-term storage and this needs to be maintained from the lab to the vaccination site:
BioNTech/Pfizer/Fosun: -94°F/-70°C
Oxford University/AstraZeneca: 36°F/2°C
Janssen: 36°F/2°C
Moderna: 36°F/2°C
Novavax: 36°F/2°C
Sputnik V: -4°F/-20°C
The mRNA vaccine from Pfizer has the lowest temperature requirement at -94°F/-70°C but even the others that can be stored at fridge temperatures will likely exceed the capacity of today's cold-chain logistics system if we hope to vaccinate a significant portion of the global population.
The solution is dry ice
The likely solution is large-scale usage of dry ice (frozen Carbon Dioxide, CO2).
Dry ice has the unusual physical property of sublimation at -109°F/-78°C. Sublimation, unlike melting, means the solid form of CO2 converts directly into gas instead of a liquid when warmed past this temperature.
Dry ice has been used for some time for the delivery of food products by mail (if you've ever ordered steaks or pies by mail, this is how they keep it frozen for the journey). This will ensure that vaccines can be transported to all corners of the globe with simple insulated containers. These same containers can also double as short-term storage containers while the vaccines are administered.
Dry ice and gas safety detection
The benefits of CO2 are many, but the one drawback is that as the dry ice sublimes, the result is the creation of CO2 gas.
For every 2.2 lbs (1 kg) of dry ice, 541 liters of CO2 gas is created. In small quantities, dry ice won't create enough gas to cause concern but as we ramp up the global distribution effort, the amount of dry ice used will be substantial.
If many transportation containers are staged in one area, the collective gas emissions could be enough to be a potential safety hazard to personnel in the area. Luckily, CO2 gas detection is something Bacharach has a lot of experience with and our CO2 detectors are among the best in the business.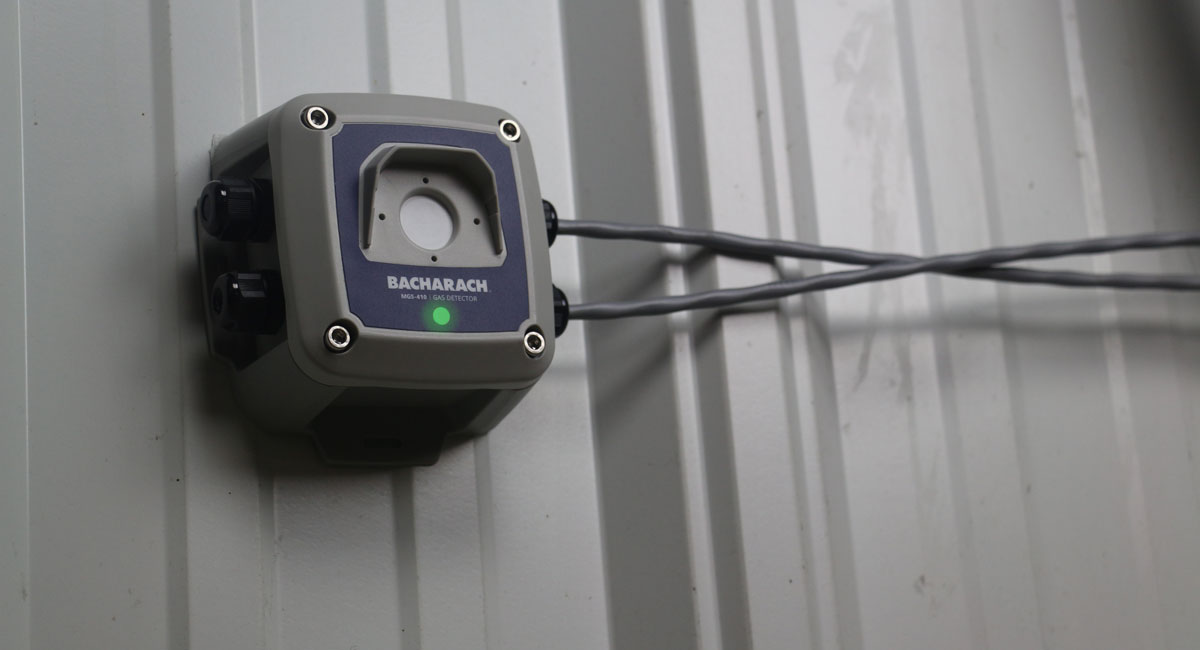 The MGS-400 series of detectors can be installed in areas where CO2 could accumulate and warn personnel before the levels become dangerous. Also, due to the 24 VDC (or 24 VAC) power supply, and optional IP66 protection, mounting them in portable applications is also possible.
For large-scale storage facilities, our aspirated CO2-MZ unit can monitor up to 16 locations per unit with the ability to alarm locally and also inform facility management of issues before they become hazardous to personnel.
Enclosed spaces
In enclosed spaces where CO2 build-up is a potential hazard, we recommend alarm settings well below the short-term exposure limit (STEL) of 15,000 parts per million (ppm) while European regulations use 30,000 ppm as the STEL. Our warning and alarm setpoint levels can be independently configured and we recommend the following levels:
Warning notification, beacon activation, ventilation
Alarm notification, beacon and sounder activation
---
Products Levitt-Safety Recommends:
MGS-402 Gas Detection Controller
2-channel controller for refrigerant, toxic and combustible gas detection.
Centralized power and alarming for up to 2 connected MGS-410 gas detectors.
Modbus RTU Master / Slave provides seamless integration from connected gas detectors to third-party BMS/BAS.
Audible and visual alarms enable compliance with ASHRAE 15 / EN 378 / CSA-B52 – no additional hardware required.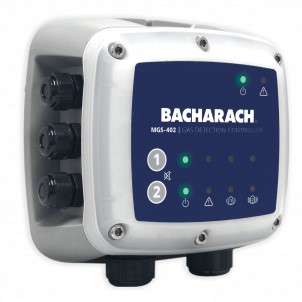 ---
Multi-Zone Refrigerant Gas Monitor
Precision refrigerant monitor for emissions reduction.
Industry-leading 1 ppm Minimum Detectable Level (MDL) for refrigerants
Proprietary infrared (NDIR) sensor accurately detects 60+ different refrigerants, including CFCs, HFCs, HCFCs, HFOs and natural refrigerants
Identify leaks early to mitigate refrigerant loss, protect produce, enhance energy efficiency
Helps ensure compliance with refrigeration standards and regulations, such as ASHRAE 15, EN 378, and CARB RMP
Capable of monitoring up to 16 zones, expandable to 48 monitoring points
Industry-leading sampling times / distances with high performance pump (up to 1,200 ft / 365 m)
No calibration required, minimal maintenance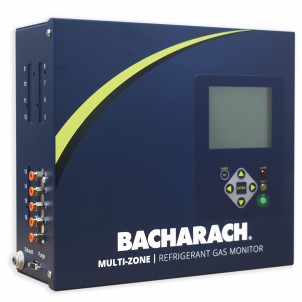 ---
Gastec Tubes for Carbon Dioxide
Clear colour change corresponds to concentration of gas.
Quick, reliable on-the-spot measurement of gases and vapours
Cost-effective solution
No calibration needed
Easy to use
Mulitple measuring ranges available
10 colourimetric tubes/box
Requires no calibration or maintenance
Pump sold separately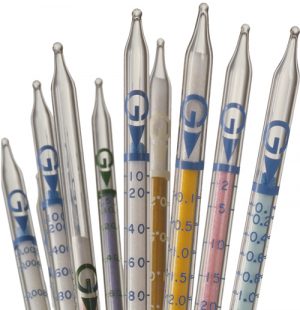 ---
---
Learn more about your options for measuring CO2
Levitt-Safety is Canada's leading provider of fixed and portable gas detection solutions.
Fill out the form to learn more about any of the products we've mentioned or get a quote.