CSA Z462:2024 - Workplace Electrical Safety Standard Update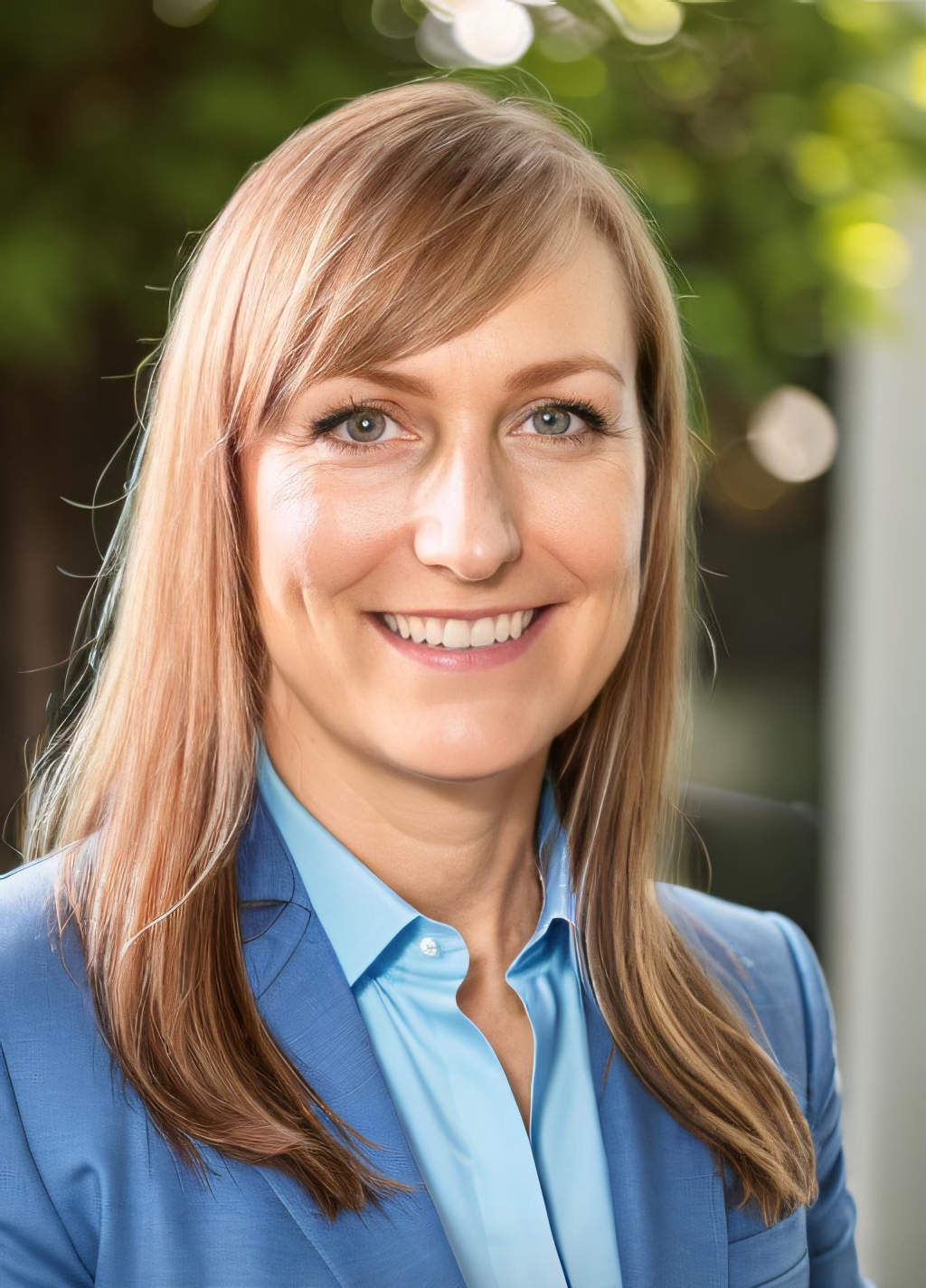 Cindy Tedd
Management Consultant
November 14, 2023
A new edition of the CSA Z462 Standard will be published in March 2024. The CSA Z462 is updated on a three-year revision cycle and provides guidance on how to manage electrical hazards in the workplace. 
In addition to occupational health and safety regulations, employers are expected to follow CSA Z462 for the highest level of due diligence. Each new edition of CSA Z462 signals a series of employer requirements for electrical safety audits (including an assessment of all arc flash and shock PPE), changes and updates to their electrical safety program, and training for all workers.
Summary of Proposed Changes:
Several editorial changes throughout the standard that will result in updates to an employer's electrical safety program.
Arc flash PPE categories removed entirely in favour of referring to the minimum arc rating requirements for PPE: reported as arc thermal performance value (ATPV), energy at breakopen threshold (EBT), or arc rating limit (ARLIM). Employers will be required to address this global change in their electrical safety program documentation. Workers can still use the Arc Flash PPE Table methods for PPE selection, with the only difference being the terminology used to describe the required protection levels.
An important clarification has been added for establishing and verifying an electrically safe work condition, requiring each phase conductor or circuit part to be tested for the absence of voltage at each point of work (i.e., not upstream). 
As part of an employer's electrical safety program, a new requirement for an emergency response plan was added to Job Safety Planning. This requirement aligns with contact release training requirements for all qualified electrical workers.
Additional exemptions added for the Energized Electrical Work Permit.
Leather Protectors have changed to Protectors (worn over rubber insulating gloves) since new materials are permitted that provide enhanced protection such as cut resistance. A new standard, ASTM F3258, has been added for non-leather protectors for rubber insulating gloves. 
A new annex, "Working with Capacitors" (Annex W), was added with extensive content, figures, tables, and equations.
CSA Z462 Employer Requirements:
Employers need to fulfill several key requirements:
1. Audit all electrical safety documentation and work practices:
Conduct internal or external (3rd party) audits of the written electrical safety program required at intervals that are not to exceed three years. This aligns with the release of the new edition of CSA Z462. 
Update the written electrical safety program by reviewing the 2024 edition of CSA Z462, complete a gap analysis of existing documentation, and bridge the gaps by updating the documentation accordingly.
Update all related electrical safety work practices.
Assess the condition of all arc flash and shock PPE, tools, and equipment, and document the condition of each item. Repair or replace items as needed.
2. Audit electrical specific field work:
Perform internal or external (3rd party) audits of the application of the electrical safety program annually. 
3. Train and retrain all affected workers:
Provide new CSA Z462-2024 training for all individuals who have not been trained, and retraining based on the new standard for previously trained personnel.

All training shall be classroom-based, on-the-job, or a combination of both. Classroom training can include interactive electronic or web-based components. 
Follow up on generic training with company-specific Electrical Safety Program updates (i.e., forms, work practices, PPE, tools, and equipment).
Follow up on all training with on-the-job application training including company-specific electrical safety work practices. 
Document the successful application of knowledge (qualification) using the competency validation process. 
Oberon's Arc Flash Protection Solutions:
Oberon offers a complete range of arc flash protection products, including arc flash suits with protection levels of up to 140 cal/cm2. 
You can purchase your Oberon® TCG40™ 3-Piece Arc Flash Kit today.
Additionally, Oberon introduces innovative solutions like the emergency response and contact release Escape Strap, available as a built-in accessory or worn over existing garments. You can purchase your Escape Strap Vest now.
Oberon's product lineup also includes the Arc Curtain Cube, a portable arc flash barrier that can be securely mounted to contain or divert an arc flash away from nearby workers and equipment.  
Place your order of Arc Curtain Cube today. 
For more information on electrical safety solutions contact Levitt-Safety.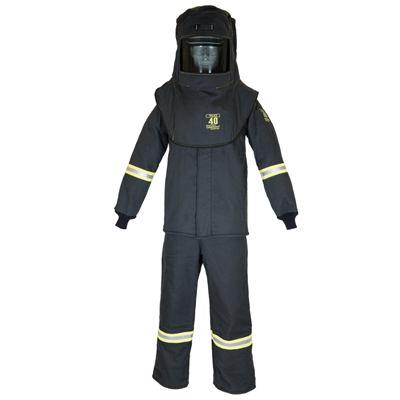 Oberon® TCG40™ 3-Piece Arc Flash Kit
Meets ANSI /ISEA 125 Level 2 Conformity and Arc Flash PPE Category 4 standards with an arc rating of 46 cal/cm2. Please refer to NFPA 70E or CSA Z462 Standards for specific selection requirements
Nearly clear TCG Series hood window provides 100% true color acuity and includes anti-fog and anti-scratch resistant coatings. Hood comes equipped with an optional ventilation system and LED light for maximum comfort and vision while working
Lightweight suit is made from a proprietary blend of arc rated, inherently flame resistant, aramid fibers
Knit cuff, dual-stage zipper front closure and adjustable suspenders for easy on/off. Reflective day/night striping on arms and legs for increased visibility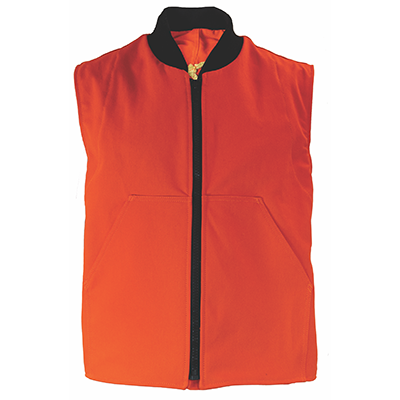 Escape Strap Vest
Meets ANSI /ISEA 125 Level 2 Conformity and Arc Flash PPE Category 4 standards with an arc rating of 41 cal/cm2. Please refer to NFPA 70E or CSA Z462 Standards for specific selection requirements 
Vest is made from an arc rated fabric with a continuous loop Kevlar strap
Kevlar rope has been tested for conductivity according to ASTM F1701
10' long Kevlar® strap which can be used to assist in contact release or to drag a worker away from harm. It can also be used as a secondary communication device
Color hi-visibility orange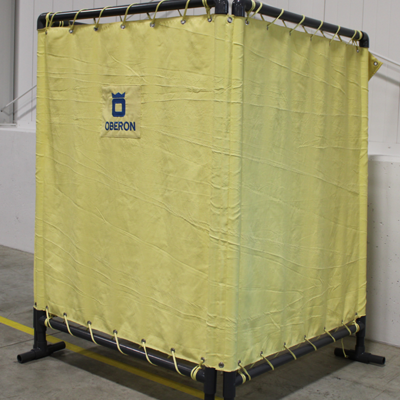 Arc Curtain Cube
Portable cube is made from a durable Aramid fabric that is tested and designed to divert energy away from the worker while performing every day electrical tasks.  It can also serve as an additional barrier to safeguard workers that are in close proximity to electrical equipment
The cube can be moved from site to site and can be deployed on multiple configurations
The 4.5′ x 6.5′ cube framework is made from a durable Schedule 80 PVC frame and is comprised of 3 Aramid panels measuring 4'x5′.  the panels are further reinforced by the use of Kevlar® rope for added strength and stability
Anchoring is recommended for holding the structure in place to contain or divert arc energy
Meets ASTM F2676 and ASTM F3272 test standards and is rated for a maximum arc current of 40 kA (BTP 517)