Stop buying crappy rain gear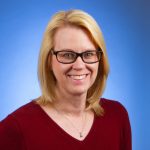 Leslie Molin
Market Segment Manager - Personal Safety
July 29, 2021
How to choose the best work rain gear:
It's not uncommon for people to buy low-quality rainwear to save some money. The problem is that cheap rain gear rarely stops the rain from permeating your clothes.
Now, we're not saying you need to break the bank to stay dry on a rainy day. We're just saying you need to be more strategic with your purchasing decisions.
Here are three key features to look for in the best work rain gear.
1. Choose waterproof (not water-resistant) material:
Water-resistant material can handle rain for a short time, but won't keep you dry for a long shift or in a heavy downpour.
Waterproof materials keep water from permeating through the material.
Ask yourself these questions when choosing a fabric:
How lightweight is it? Heavier material is more challenging to work in for longer periods of time.
How does it fit? You'll want your rainwear to fit generously. This way you can layer clothing underneath (depending on the weather).
How breathable is it? Breathable fabric lets steam and perspiration out.
Does the fabric have "ripstop" technology? Ripstop fabrics use a special reinforcing technique to be more resistant to tearing and ripping.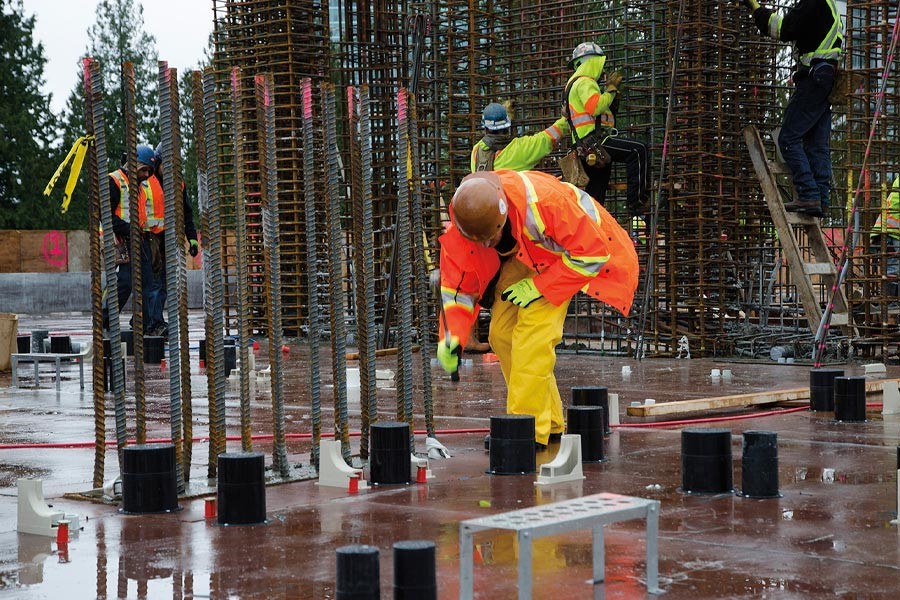 2. Check out the seams:
When it comes to stitching, avoid overcast stitching that are one continuous thread. If the thread breaks, the whole seam will unravel.
Instead, look for rain gear with hemstitching. The fabric is folded over the edge and the layers are stitched together. This provides a clean, hemmed edge that stands up to leaks.
Extra bonus if your rainwear has bar-tracking. This repetitive stitching is found at critical tear points including the pockets, cuffs, buttonholes and other stress areas.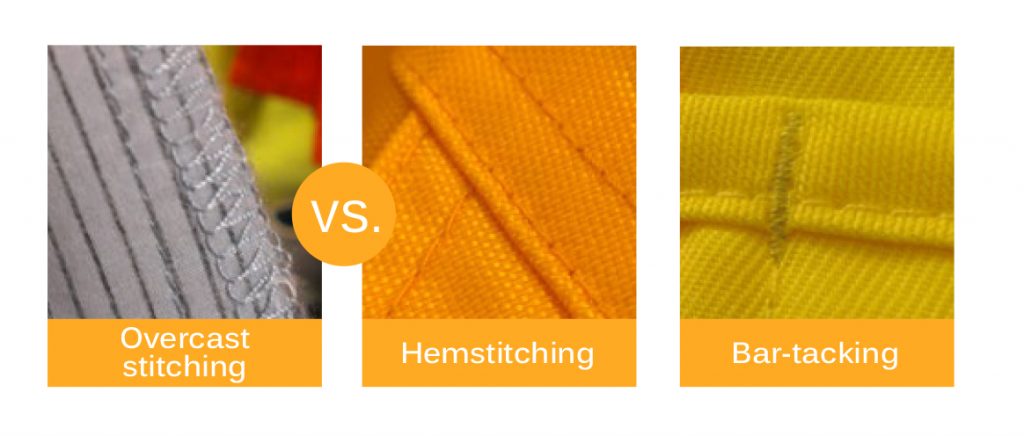 There are two popular zipper options:
Tooth
Coil
Choose tooth zippers when possible. This zipper is more durable and offers a longer lifespan.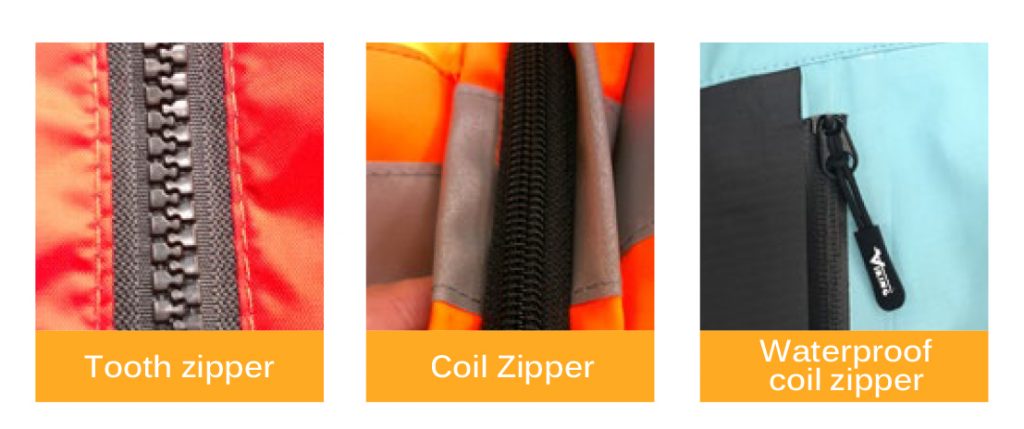 3. Look for high visibility:
Visibility is poor on rainy days, so choosing rainwear made from high-visibility material is important.
In order to comply with the CSA Z96 standard, CCOHS says the rain gear should meet the following criteria:
A waist-level horizontal stripe/band that goes completely around the garment.
Two vertical stripes on the front, passing over the shoulders and down to the waist.
A symmetric "X" on the back, extending from the shoulders to the waist.
Class 3 requires adding stripes/bands encircling each arm and leg.
Work rain gear recommendations:
We carry a huge range of waterproof clothing and rain gear, including arc flash rain gear and welding rain gear. See everything we sell.
---
Open Road® Waterproof Rainsuit
The Open Road rainsuit is a top seller when it comes to cost-effective, high-visibility rainwear.
Lightweight ripstop material is waterproof and windproof
Double sewn, taped and heat sealed seams resist punctures, rip and tears
Elastic suspenders with quick release buckles and adjustable boot cuffs
CSA Z96 compliant class 2, level 2. Becomes class 3 when worn as a suit
Available in orange or green/yellow
Jacket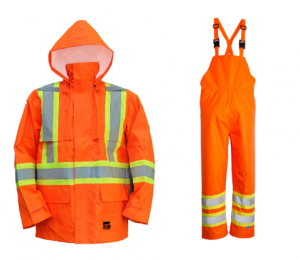 Viking® Professional Journeyman Waterproof Rainsuit
Great for supervisors, engineers and inspectors
Heavy-duty 300 denier Trilobal ripstop polyester materail with triple stiteched, taped and heat-sealed seams
Fully lined jacket and 100% waterproof and windproof
Detachable bib designed with inner zippered storage and 13" adjustable boot cuffs
CSA Z96 compliant
Jacket
Pants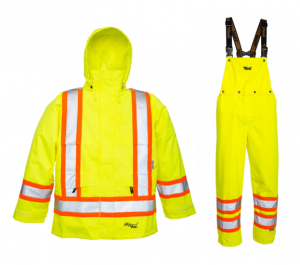 Pioneer FR Waterproof High Visibility Rainsuit
100% FR-treated polyurethane
Oil and chemical resistant
100% waterproof and windproof
StarTech FR reflective tape
Heat welded seams
CSA Z96 compliant class 2 level 2 and class 3 FR when worn as a suit
Jacket
Pants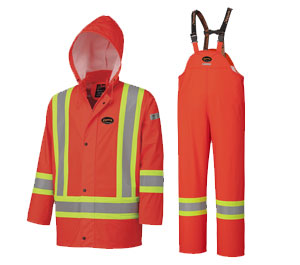 ---
Talk to an expert
There's a lot that goes into high-quality work rainwear. Whether you work in construction, chemical processing, commercial fishing, trucking, waste management or transit, upgrading the material, seams and visibility of your rainwear will help keep you much dryer and safer.
If you need any help choosing the best outerwear for your needs,
Our team of safety specialists is here to answer questions you have and provide expert product recommendations.