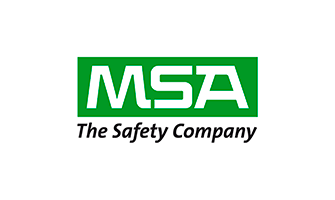 MSA Cable Temporary Horizontal Lifeline
75% faster to install than tradition cable systems.
The toolless installation of MSA's THLL helps save time and increase efficiency when setting up lifelines on the job site.
Integrated locking and tensioning mechanism on the handle – eliminates the need for nuts, bolts and wrenches.
Lightweight, flexible cable helps make installation easy to complete by a single worker.
Locking and tensioning mechanisms are on the same side – no need to travel back and forth for setup.
Easy-to-read red and green visual indicators let the user know the system is locked, tensioned and ready for use.
Patented bypass shuttles help two users maintain 100% tie-off – increasing mobility without sacrificing safety.
Want to learn more? Fill out the form on this page to set up a demo with one of our fall protection specialists.
---
Confined space work is dangerous. Be prepared with MSA safety solutions.
What is a confined space?
A space must meet these four definitions to be deemed confined:
Enclosed or partially enclosed space.
Not designed or intended for continuous human occupancy.
Restricted access or exit.
A space that is or may become hazardous to a person entering it because of its design, construction, location, atmosphere or the materials or substances in it or other conditions.
---
Confined space safety solutions:
Fall protection
In confined space applications, a proper fall protection system consists of full-body safety harnesses, tripod kits, full-body harness, SRLs, and winch and rescuer units.
See all fall protection equipment
---
Gas detection
MSA builds ALTAIR® gas detectors for rugged durability and includes XCell® sensor technology for dependability. ALTAIR gas detectors connect to web-based Grid services which means you can access data from anywhere, at any time.
---
Respiratory protection
MSA supplied-air respirators help limit your exposure to fumes, particles, or contaminants. The G1 platform provides respiratory solutions for SCBA, air line and air-purifying applications.
Learn more about respiratory protection
---
Head protection
Choose industry-leading head protection, including the V-Gard® H1, with Fas-Trac® III Pivot Ratchet Suspension for superior comfort, adjustability, and range of motion.
---
Have a question?
Fill out the form on this page to talk to a safety specialist. We can give you product recommendations based on your specific needs.